Deborah Grace Staley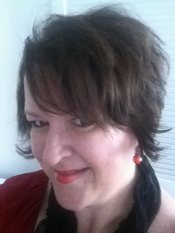 http://www.deborahgracestaley.com
E-mail me when Deborah Grace Staley releases a new book.
Blogging at Fresh Fiction
Deborah Grace Staley | Pieces of Me
November 21, 2012
Patrick sighed. Blame it on the alcohol. "Have you never done anything that you regretted, Frannie?" he asked. "Something for which you didn Read More...
Born and raised in Kingsport, Tennessee – that's in the upper eastern tip of the state – Deborah Grace Staley is the youngest of four children. Since there were not a lot of neighborhood children to play with and no siblings close in age, she learned to amuse herself by creating stories that played out in her head. For some reason, she never gave a thought to committing them to paper.
A painfully slow reader, Deborah decided if she was going to earn a college degree, her reading speed would have to improve. So the summer before she entered King College in Bristol, Tennessee, she went to her local library and checked out a variety of books. She fell in love with Harlequins. By the end of the summer, she was reading a book a day written by classic romance authors such as Anne Mather and Carole Mortimer.
After earning her degree, she tried out a couple of careers before she settled into being a paralegal. Meanwhile, she kept reading romance while her own stories kept spinning around in her head, but now were demanding to be written. With a degree in French, she had no idea how to write a novel. So, she took three novel writing courses at the University of Tennessee at Knoxville and got started. Four years and one baby later, with one completed book in hand, she began submitting, joined Romance Writers of America and began attending conferences for romance writers.
Deborah never sold that first book she wrote, and it took nine years before her dream of being a published romance novelist became a reality. Still, she never doubted that it would happen when the time was right. ""To every thing there is a season, and a time to every purpose under the heaven."" Ecclesiastes 3:1.
Today, Deborah has retired from the life of a paralegal and a Disability Services Specialist and writes and teaches full–time. She just received her Master of Fine Arts in Creative Writing from Goddard College. Married to her college sweetheart for twenty–three years, they make their home on five acres in Maryville, Tennessee in a circa 1867 farmhouse with gingerbread trim that has Angel's Wings. She has one son in college whom she loves to watch play baseball.
Now that her stories are out of her head and on paper, she's so thankful for the opportunity to share them with readers! She'd love to hear from you via e–mail at
Books:
Unforgettable, November 2012
The Fifth Angel Ridge Novel
Paperback
I'll Be There, June 2012
Angel Ridge #4
Trade Size
Sweeter Than Tea, June 2012
Sweet Tea #3
Trade Size
Aphrodite's Garden, March 2012
A Fast Break Romance #3
e-Book
The Wedding Quilt, September 2011
A Fast Break Romance #2
e-Book
The Trip, September 2011
A Fast Break Romance #1
e-Book
What the Heart Wants, August 2010
Angel Ridge #3
Trade Size
A Home for Christmas, November 2009
Angel Ridge #2
Trade Size (reprint)
Only You, May 2009
Angel Ridge #1
Trade Size (reprint)

Videos