Deborah Grace Staley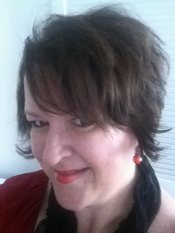 From Tame to Flame...

http://www.deborahgracestaley.com
Contests
SIMMER This Summer with Deborah Grace Staley!

News
July 14, 2014
Time to SIMMER with Deborah Grace Staley's New Release!
February 25, 2014
Deborah Grace Staley's UNFORGETTABLE is today's Amazon Daily Deal!

E-mail me when Deborah Grace Staley releases a new book.
Blogging at Fresh Fiction
Deborah Grace Staley | Mountain Traditions, Superstitions, and Old Christmas
January 5, 2014
WHAT THE HEART WANTS Winner of the Read More...
Deborah Grace Staley | Pieces of Me
November 21, 2012
Patrick sighed. Blame it on the alcohol. "Have you never done anything that you regretted, Frannie?" he asked. "Something for which you didn Read More...
Deborah Grace Staley, originally from East Tennessee, now calls Southern Florida home. Married to her college sweetheart, she has one fabulous son and lives in a 1925 Spanish-Style Bungalow near the Atlantic Ocean. In addition to being an award-winning and bestselling author, Deborah loves spending time with her family and playing with her two rescued dachshunds.
She holds an MFA in Creative Writing from Goddard College and a Bachelor of Arts degree from King College. She writes full-time and teaches.
Deborah loves to hear from readers! Please visit her website to email or follow her on Facebook and Twitter.
Author Note
​I have been so privileged to share the Angel Ridge Series of novels with you for the past several years. You have embraced this small East Tennessee town and its characters with love and enthusiasm. For that, I will be forever grateful. I hope that you will continue to support this series and that you'll visit Angel Ridge again with me in the future.
In the meantime, I'd like to introduce you to a new small town to love in southern Georgia. Couper's Point is a quaint port town near Solomon's Island, the home to Wilde Dunes Resort. In this tropical beach setting, the romance sizzles hotter that the summer heat. The first Wilde Dunes novel will be released from Bell Bridge Books in July 2014.
The sexier Wilde Dunes novels are a departure from the sweet romances of Angel Ridge. Writing a different type of romance novel has allowed me to flex my writing muscles a bit. You could say my books now run from Tame to Flame. While some will love to read both series, others may stick to one or the other. That's okay. There should be something for everyone here. I have enjoyed visiting both worlds. I think you will, too.
Happy reading!
* * *
Books:
Simmer, July 2014
Wilde Dunes #1
Paperback
Unforgettable, November 2012
The Fifth Angel Ridge Novel
Paperback
I'll Be There, June 2012
Angel Ridge #4
Trade Size
Sweeter Than Tea, June 2012
Sweet Tea #3
Trade Size
Aphrodite's Garden, March 2012
A Fast Break Romance #3
e-Book
The Trip, September 2011
A Fast Break Romance #1
e-Book
The Wedding Quilt, September 2011
A Fast Break Romance #2
e-Book
What the Heart Wants, August 2010
Angel Ridge #3
Trade Size
A Home for Christmas, November 2009
Angel Ridge #2
Trade Size (reprint)
Only You, May 2009
Angel Ridge #1
Trade Size (reprint)

Videos