Lenore Skenazy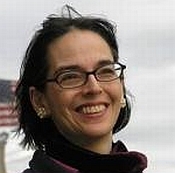 Lenore Skenazy is a syndicated columnist. Her often cheery, sometimes chiding pieces take a skeptical look at the culture that has brought us vitamin water for dogs, pole dancing for grannies and an S.A.T. vocabulary shower curtain for kids.
As you might guess, Skenazy covers topics overlooked by most op-ed writers, including things like, "My Dollar Store Addiction," and "Don't Call Me From Your Car Just Because You're Bored." Still, she also turns her attention to more serious matters, ranging from the proliferation of bioterrorism research labs (which she sees as a menace) to the proliferation of cell phone porn (ditto).
In all her writing, Skenazy sees herself not as a pundit, but as a normal, curious, often amused but just as often fed-up, middle-aged mom out to get the facts. Her observations can be heard on NPR's "All Things Considered," she has written for Mad Magazine, and she edits the "What Next?" humor contest in the magazine The Week. She also spent several years as an on-air (younger, cuter) Andy Rooney, first at CNBC and then at the Food Channel.
She lives in Manhattan with her husband and two extremely pre-teen sons.
Series
Books:
Free-Range Kids, April 2009
Hardcover