Bill Releford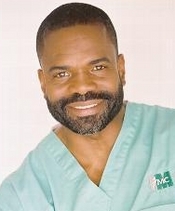 Dr. BILL RELEFORD began private practice in 1990 and started the Diabetic Foot Institute, a facility dedicated exclusively to the reduction of diabetes-related amputations in high-risk populations. Most patients were oblivious to the standard of care that should be expected during the occurrence of a diabetic foot complication or the unfortunate recommendation for lower-extremity amputation.
Dr. Releford discovered that in approximately 70-85% of cases, amputation was recommended either prematurely or should not have been recommended at all. His entire practice became and remains dedicated exclusively to diabetic limb salvage. His limb salvage success and philosophy was formalized in the development of the Daniel Freeman Wound Care Center where platelet-derived growth factor therapy was used to facilitate healing of chronic wounds via angiogenesis. A multi-disciplinary approach to limb salvage was exercised where vascular surgeons, infectious disease specialist, plastic surgeons, endocrinologist and podiatrists would collaborate solely for the benefit of salvaging a foot at risk of amputation.
To further the depth of his understanding about techniques to salvage limbs at risk of amputation and to bring resources previously unavailable to his patient population, Dr. Releford began a series of clinical trials. The Diabetic Foot Institute has the distinction of being one of the first non-academic facilities to use bio-engineered tissue in the United States during a clinical trial. Fibroblast from neonatal foreskin were cultivated and placed on an absorbable matrix and used to heal diabetic ulcerations. Bio-engineered tissue was employed when patients were not candidates for traditional split thickness skin grafts.
While diabetes-related lower-extremity amputations have reached epidemic proportions in the United States particularly among African American females, more shocking is the fact that 75 percent of amputations are preventable. The development of culturally specific prevention centered educational vehicles would be necessary to further his personal mission to affect the disproportionate number of diabetes related amputations that occur in minority communities.
Series
Books:
5 Colors To Better Health, February 2009
Paperback