Lisa Johnson Mandell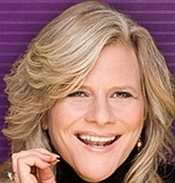 Lisa Johnson Mandell is an award-winning multi-media journalist, author and Career Image Specialist. She has been featured in The Wall St. Journal, as well as on Dr. Phil, Rachael Ray, Bravo, Forbes, the CBS Early Show, NBC Today, Fox News and many, many other media outlets.
Lisa never dreamed that her 25+ years of experience would be viewed as a liability, but, while searching for work as a film critic and entertainment reporter in her native Los Angeles, she found that the precious few jobs available were going to the young, nubile and unskilled. So she started a personal campaign to give herself a career makeover. She "Botoxed" her resume, rejuvenated her image and worked the web like crazy, and almost instantly received more job offers than she could handle. Researching what other women had done and what the experts had to say about finding the perfect job during these challenging times, Lisa wrote Career Comeback– Repackage yourself to get the job you want, (Springboard). She is currently blogging for AOL's new Dime Crunch, where she receives millions of hits and thousands of comments, which she finds incredibly enlightening — some even in a good way.
Lisa graduated cum laude with a degree in journalism, and has authored several books released by major publishers. She currently lives in Los Angeles with her husband James and their Golden Doodle, "KC." When she is not helping people land jobs they love, she's probably interviewing movie stars or sitting in a dark theater, preparing film reviews for radio stations in major markets, and for Filmazing.com.
Series
Books:
Career Comeback, January 2010
Hardcover
Become Your Own Matchmaker, January 2009
Hardcover