Scott Sigler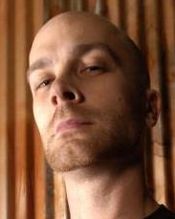 Blogging at Fresh Fiction
DFW Tea Book Club | Friends, Dinner and Signing Hopping
January 17, 2009
Friday nights are always better with friends and good stories. This week was no different, since I had the chance to catch up with some Read More...
Scott is the author of INFECTED and CONTAGIOUS, major hardcover thrillers from Crown Publishing. He landed his book deal by giving away multiple novels as free, serialized podcasts that generated a large online following and saw over 4 million downloads of the individual episodes.
Scott reinvented book publishing when he released EARTHCORE as the world's first "podcast-only" novel. Released in twenty weekly episodes, EARTHCORE harkened back to the days of serialized radio fiction and picked up 10,000 subscribers along the way.
His next podcast novel, ANCESTOR, drew 30,000 listeners and saw 700,000 episodes downloaded by fans. The buzz caused Sirius Satellite to pick up the novel, making it the first audiobook serialized on the satellite network. When ANCESTOR was released in print from a small independent publisher, it hit #7 overall on Amazon.com despite no marketing, no advertising and no media coverage.
Scott's innovative use of technology puts him at the forefront of modern-day publishing, and has garnered brand-name exposure among hundreds of thousands of fiction fans and technology buffs. He's been covered in the New York Times, NPR, Washington Post, San Francisco Chronicle, Entertainment Weekly, Publisher's Weekly, The Huffington Post, Business Week and Fangoria.
Michigan native, Scott lives in San Francisco with his wife and dog.
Scott is responsible for many inventions, including podcasting, the Internet, and the internal combustion engine. And trees, those were his. Okay, so he worked with Al Gore on the Internet, but Scott did most of the work. He made his first podcast in 1978. It is a well-known fact that he has podcast every Sunday, without fail, since that time (with the exception of Super Bowl Sundays, which Scott claims as the ultimate holy day).
Scott is 6-foot-10, can juggle four kittens and can hop on one leg for, like, over 10 minutes without falling over. That's rad. Don't lie to me, you know it's rad, you just don't want to look uncool in front of your friends. Fine, Mister Cool Guy, go ahead and act disinterested.
We know you'll be back.
From his web site, honest!
Series
Galactic Football League
Books:
Alive, July 2015
Generations #1
Paperback
The MVP, September 2012
Galactic Football League #4
Paperback
The Starter, August 2012
Galactic Football League #2
Paperback
The Rookie, August 2012
Galactic Football League #1
Paperback
Nocturnal, April 2012
Hardcover
The All-Pro, September 2011
Galactic Football League #3
Paperback
Ancestor, July 2010
Hardcover
Contagious, January 2009
Hardcover
Infected, October 2008
Paperback
Ancestor, April 2007
Paperback
Earthcore, October 2005
Paperback