Miyoko Chu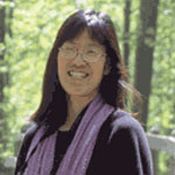 Miyoko Chu is a Ph.D. ornithologist and staff writer at the Cornell Lab of Ornithology. She is editor of the Lab's BirdScope newsletter and assistant editor of Living Bird magazine.
Chu grew up in Albany, California, where she first learned about birds by raising pigeons that she and her father bought and rescued from a poultry truck in San Francisco's Chinatown. In college, she spent summers capturing and banding migratory Cliff Swallows in Nebraska and monitoring nesting birds at the Point Reyes Bird Observatory's Palomarin field station in California.
She is a graduate of Yale University (B.A., Organismal Biology), the University of California, Santa Cruz (certificate, Science Communication), and the University of California, Berkeley (Ph.D., Integrative Biology). For her dissertation, she studied the enigmatic migratory behavior of a southwestern bird, the Phainopepla.
Chu lives in Ithaca, New York, with her husband and bird watching partner Mark Chao, and their two children. Songbird Journeys is her first book.
Series
Books:
Birdscapes, August 2008
Hardcover