Joey Green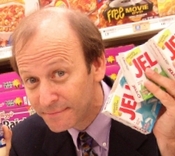 Joey Green, the guru of weird uses for brand-name products, delights audiences with his outlandish demonstrations. He gets the whole room filled with laughter, and at the same time, he inspires people to think outside the box.
The New York Daily News calls him "a hyperactive, testosterone-charged version of Heloise." People calls him the "Pantry Professor." The New York Times says, "His deadpan explanations end in punchlines that would have a stand-up comic's audience in the aisles."
Formerly a contributing editor to National Lampoon and a former advertising copywriter at J. Walter Thompson, Joey is the bestselling author of more than forty books, including Joey Green's Amazing Kitchen Cures, Joey Green's Magic Brands, Polish Your Furniture with Panty Hose, Wash Your Hair with Whipped Cream, and Clean Your Clothes with Cheez Whiz.
His hysterical and high-spirited presentation has made him a popular guest on Good Morning America, The View, and The Tonight Show. This hysterical and ingenious ideaman opens people's eyes to the potential hiding in every product, providing laughter and learning.
Series
Books:
Joey Green's Fix-It Magic, July 2008
Paperback