Mark Alpert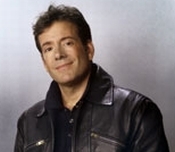 Photo Credit: Sigrid Estrada

Mark Alpert has been an editor at Scientific American for the past ten years. His job is to simplify bewildering scientific ideas for the magazine's readers, explaining concepts such as string theory, extra dimensions and parallel universes. A lifelong science geek, he attended Stuyvesant High School in New York City and then majored in astrophysics at Princeton University. Working with his advisor, the Princeton theorist J. Richard Gott III, Mark wrote his undergraduate thesis on the application of the theory of relativity to Flatland, a model universe with only two spatial dimensions (length and width, but no depth). The resulting paper, "General Relativity in a (2 + 1)-Dimensional Spacetime," was published in the Journal of General Relativity and Gravitation in 1984 and has been cited in more than 100 physics papers since then. (Scientists who are searching for the Theory of Everything are particularly interested in Flatland because the mathematics gets simpler when one spatial dimension is removed from the equations.)
While at Princeton, Mark also studied creative writing with poets Michael Ryan and James Richardson. After graduation he made the fateful (and perhaps foolhardy) decision to pursue poetry rather than physics. So he entered the M.F.A. writing program at Columbia University, where he took courses taught by Stanley Kunitz, Octavio Paz, Derek Walcott, Susan Sontag and Elizabeth Hardwick. Two years later, when he realized that poetry would never pay the bills, Mark became a journalist. He started as a reporter for the Claremont (N.H.) Eagle Times, writing stories about school-board meetings and photographing traffic accidents with his beloved Nikon FG. Then he moved on to the Montgomery (Ala.) Advertiser, where he learned the history of the civil-rights movement by covering George Wallace's last year as governor. In 1987 he returned to New York as a reporter for Fortune Magazine and over the next five years he wrote about the computer industry and emerging technologies. During the 1990s Mark worked freelance, contributing articles to Popular Mechanics and writing copy for the talking heads on CNN's Moneyline show. Throughout this period he was also writing novels and short stories, but the only piece of fiction he sold was a short story called "My Life with Joanne Christiansen," which was published in Playboy.
In 1998 Mark joined the board of editors at Scientific American. With his love for science reawakened, he soon came up with another idea for a novel. While working on a special issue about Albert Einstein, he was intrigued by the story of Einstein's long search for a unified field theory that would explain all the forces of Nature. Mark started writing a thriller about high-energy physics, incorporating many of the real ideas and technologies described in the pages of Scientific American: driverless cars, surveillance robots, virtual-reality combat and so on. The result is Final Theory, which will be published by the Touchstone imprint of Simon & Schuster in June 2008. The book is the first in a planned series of science thrillers.
Mark lives in Manhattan with his wife and two children. He's a proud member of his magazine's softball team, the Scientific American Big Bangers.
Series
Books:
The Coming Storm, January 2019
Hardcover
The Siege, July 2016
Hardcover
Extinction, February 2013
Hardcover
The Omega Theory, February 2011
Hardcover
Final Theory, February 2011
Mass Market Paperback (reprint)
Final Theory, June 2008
Hardcover