Gregory Lamberson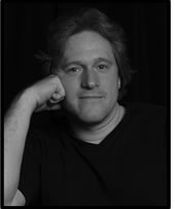 Two-time Bram Stoker Award-nominated author Gregory Lamberson was a horror storyteller long before unleashing Personal Demons and Johnny Gruesome on the world. At the age of twenty-one, he wrote and directed his first horror film, Slime City, which became a midnight movie cult classic. He also wrote and directed the micro-budget features Undying Love and Naked Fear. All three films will be released on DVD as Greg Lamberson's Slime City Grindhouse Collection on July 28th. The two-disc set includes Gruesome, his short film based on Johnny Gruesome, starring Erin Brown, aka "Misty Mundae."
Greg's first novel, Personal Demons, won the Anubis Award for Horror, judged by acclaimed writer T.M. Wright. Medallion Press is publishing Personal Demons as a mass market paperback this October, and Greg is hard at work on a sequel for 2011. Johnny Gruesome won Dark Scribe Magazine's "Best Small Press Chill" Readers' Choice Black Quill Award in 2008, and an online comic book adaptation of the novel won the New York City Horror Film Festival's Best Comic Book in 2007.
Both Johnny Gruesome and Greg's instructional book, Cheap Scares! Low Budget Horror Filmmakers Share Their Secrets, have been nominated for the Bram Stoker Awards by the Horror Writer Association. Johnny Gruesome was nominated for Superior Achievement in a Novel and Cheap Scares was nominated for Superior Achievement in Nonfiction.
Greg is hard at work on a new film, Slime City Massacre, and Medallion will publish his fourth novel, Desperate Souls, in October 2010.
He loves to hear from his readers, and can be reached through his Web site.
Series
Books:
Black Creek, March 2016
e-Book
Human Monsters, March 2015
Jake Helman Files
Paperback
Storm Demon, October 2013
Hardcover
Cosmic Forces, October 2011
Paperback
Desperate Souls, October 2010
Jake Helman Files #2
Trade Size
The Frenzy Way, June 2010
Trade Size
Personal Demons, October 2009
Jake Helman Files
Mass Market Paperback
Johnny Gruesome, October 2008
Trade Size