Ian Douglas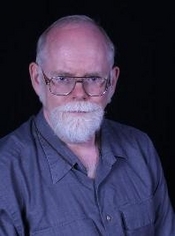 Ian Douglas is the author of the popular military SF series The Heritage Trilogy.
When he's not writing – a strange, twilight dimension of unreality dimly experienced from time to time between novels – Bill Keith can be found hiking in his beloved mountains, participating in the local chapter of Mensa, and murdering defenseless paper targets with weapons of various calibers. He's also appeared as a guest lecturer at various nearby colleges and at Mensa events, speaking on topics ranging from writing genre fiction to future spacecraft propulsion systems to the future of Humankind in space. He practices and teaches Reiki, researches metaphysical phenomena in hopes of another non-fiction book contract, and can often be found soaking in a hot tub, in the words of the late Frank Zappa, "pondering eternity, and fractional divisions thereof." He lives in a small town in the mountains with three cats, two snakes, a bearded dragon, a human partner named Brea, and various aquatic critters and plants.
Log In to see more information about Ian Douglas
Log in or register now!
Series
Books:
Bright Light, December 2018
Mass Market Paperback
Darkness Falling, December 2017
Andromedan Dark #2
Mass Market Paperback
Dark Mind, May 2017
Mass Market Paperback
Altered Starscape, November 2016
Paperback
Dark Matter, June 2014
Book Five
Paperback
Center Of Gravity, March 2011
Star Carrier #2
Paperback
Earth Strike, March 2010
Star Carrier: Book One
Mass Market Paperback
Star Marines, February 2007
Paperback