Cynthia Breeding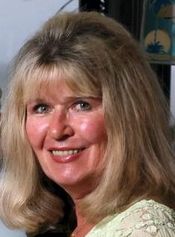 Blogging at Fresh Fiction
Cynthia Breeding | Londinium
July 25, 2018
Long before dukes and earls rode in fancy carriages through London's Hyde Park, and long before the Norman-French claimed victory at Hastings, Romans Read More...
Cynthia Breeding | Plotting a Full-length Novel
September 2, 2016
ROGUE OF THE MOORS (Samhain Publishing) was released August 31. This will be my fifteenth Read More...
An avid reader of anything medieval, Cynthia Breeding has taught the traditional Arthurian legends to high school sophomores for fifteen years. She owns more than three hundred books, fictional and non-fictional, on the subject. More information on Arthur, Gwenhwyfar and Lancelot can be found on the Historical Account link. In addition, she has won numerous awards including the Holt Medallion, Beacon Contest, Barclay Gold, More Than Magic and Ancient City Romance Authors. Cynthia lives on the bay with her Bichon Frise and enjoys sailing and riding on the beach.
Series
Rogue - Breeding
Books:
A Rake's Redemption, August 2018
e-Book
Rogue of the Moors, September 2016
Rogue #6
e-Book
Rogue of the High Sea, October 2015
Rogue #5
e-Book
Sister of Rogues, February 2015
Rogue #4
e-Book
Rogue of the Borders, May 2014
Rogue #3
e-Book
The Last Pirates, July 2011
Trade Size
Lochs and Lasses, May 2011
Paperback
Camelot's Enchantment, April 2011
Paperback
Second Time Around, September 2009
Paperback
Prelude to Camelot, June 2009
Trade Size
A Dance of Manners, March 2009
Paperback
Fate Of Camelot, July 2008
Paperback
My Noble Knight, June 2007
Paperback
Camelot's Destiny, August 2006
Paperback