Katherine Crowley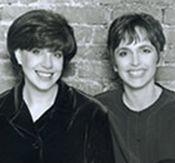 Katherine Crowley and Kathi Elster come from the same core interest: what makes people tick. Born in the 50's, they were both raised in the northeast, and both showed early signs of being generally fascinated by human behavior.
As a child, Katherine Crowley spent hours reading books about astrology and famous movie stars from the 1930's. She combed over the biographies of such film icons as Jean Harlow, Vivien Leigh and Spencer Tracy. "I was intrigued by the public victories and personal tragedies they endured."
Kathi Eslter, meanwhile, spent her childhood reading Life magazine and National Geographic. She was fascinated by the notion that people in New Guinea, Africa and Russia lived such extremely different lives. "I realized that our way of life was only one culture and one lifestyle among many."
Then the sixties came... The book that caught Kathi's attention was I'm Okay, You're Okay. "It had a tremendous impact on me." Kathi treasured this book because it raised consciousness that life and relationships did not have to be scripted. "If we could see each other as unique individuals, we could allow each person to express him or herself, and still get along."
At the same time, Katherine's world opened up via Desmond Morris' The Naked Ape. "I was blown away by the notion that humans were animals to be studied over time. It seemed amazing that today's social practices and customs could have evolved over thousands of years."
As the 70's arrived, Katherine and Kathi, while still on separate paths, discovered the same books, The Road Less Traveled, by F. Scott Peck and How Can I help? By Ram Dass. These books laid the foundation for their personal development and life work.
Katherine and Kathi finally met in the late 80's. By then, Katherine's interest in psychology led to books such as Robert Kegan's Evolving Self, and Alice Miller's Drama of the Gifted Child. Kathi built her knowledge base in business with books such as Getting to Yes by Roger Fisher and William Ury, The Art of Selling by Tom Hopkins. Smart Questions by Dorothy Leeds.
In the 90's, Katherine began to investigate interpersonal dynamics at work. and gender differences. Two of her handbooks were The Dance of Anger and Men are from Mars, Women are from Venus. Kathi focused on identifying social, economic and political trends and understanding how they influenced business. She completed Alvin Toffler's trilogy, Future Shock, The Third Wave, Powershift. She also studied the consumer trends guru, Faith Popcorn: Clicking and The Popcorn Report.
In 2000, The Tipping Point by Malcom Caldwell, caught the joint attention of Katherine and Kathi as did Excuse Me, Your Life Is Waiting by Lynn Grabhorn.
While Katherine is interested in helping individuals navigate the emotional obstacles that prevent them from realizing their goals, Kathi is passionate about giving people practical solutions to complex business situations.
Katherine: "I see my job as educating and supporting people in self-awareness that leads to positive action on their own behalf"
Kathi: "I want to help people own up to their actions and take the high road in terms of how they interact with others in a professional setting."
Katherine: "We both want to raise consciousness in the workplace."
Kathi: "We're dedicated to helping individuals take responsibility for the results they create, and for the effect that their attitudes have on themselves and others."
Series
Books:
Working WIth You Is Killing Me, March 2006
Hardcover