Tracy Anne Warren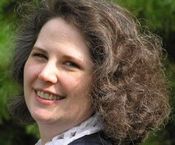 Blogging at Fresh Fiction
Meet Tracy Anne Warren and the Rakes of Cavendish Square
March 9, 2016
We had a chance to ask Tracy a few questions about her latest work and series: Read More...
Tracy Anne Warren | Back to Back to Back . . .
November 27, 2007
Trilogies are an interesting beast—especially back-to-back trilogies. Readers enjoy them since it means they don't have to wait long between books Read More...
Tracy Anne Warren grew up in a small Central Ohio town. She holds a degree in history and draws upon that knowledge to craft the stories she so loves to tell. She has traveled extensively throughout the US and Europe, including more than one trip to the British Isles. After a number of years working in finance, she quit her day job to pursue her first love--writing romance novels.
Tracy currently lives in Maryland with three mischievous Siamese rescue cats, windows full of gorgeous orchids and African violets. When she's not writing, she enjoys reading, cooking, watching movies and dreaming up the characters for her next book.
Log In to see more information about Tracy Anne Warren
Log in or register now!
Series
Night Huntress World | Graysons | Rakes of Cavendish Square | Byrons of Braebourne
Books:
Bedchamber Games, March 2017
Rakes of Cavendish Square #3
Mass Market Paperback
Happily Bedded Bliss, March 2016
The Rakes of Cavendish Square
Paperback
Mad About the Man, October 2015
Graysons #3
Paperback
The Bedding Proposal, March 2015
The Rakes of Cavendish Square
Paperback
The Man Plan, August 2014
Graysons #2
Paperback
The Last Man On Earth, January 2014
Graysons #1
Paperback
The Trouble With Princesses, November 2013
Princess Bride #3
Mass Market Paperback
Her Highness And The Highlander, November 2012
Paperback
The Princess and the Peer, April 2012
Mass Market Paperback
The Bed and the Bachelor, August 2011
Byrons of Braebourne #5
Mass Market Paperback
Wicked Delights Of A Bridal Bed, September 2010
Byrons of Braebourne #4
Paperback
At The Duke's Pleasure, January 2010
Byrons of Braebourne #3
Mass Market Paperback
Seduced by His Touch, September 2009
Byrons of Braebourne #2
Paperback
Four Dukes and a Devil, July 2009
Night Huntress World
Mass Market Paperback
Tempted By His Kiss, March 2009
Byrons of Braebourne #1
Mass Market Paperback
His Favorite Mistress, January 2008
Mistress Trilogy #3
Paperback
The Accidental Mistress, December 2007
Mistress Trilogy #2
Mass Market Paperback
My Fair Mistress, November 2007
Mistress Trilogy #1
Mass Market Paperback
The Wedding Trap, May 2006
Trap Trilogy - Book 3
Paperback
The Wife Trap, May 2006
Trap Trilogy - Book 2
Paperback
The Husband Trap, April 2006
Trap Trilogy - Book 1
Paperback