Marty Becker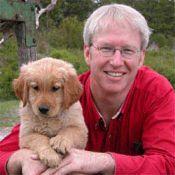 Marty Becker, D.V.M., is regularly featured on ABC-TV's Good Morning America and writes a weekly column for over 500 Knight Ridder newspapers.
Through education and entertainment, Dr. Marty Becker strengthens that special relationship between pets and people he calls, "The Bond."
As a veterinarian, media personality, author, lecturer, educator, contributor, influencer and recipient of many prestigious awards, Dr. Marty Becker has become known as the "best loved family doctor for pets."
Dr. Becker authors two highly regarded newspaper columns that are internationally distributed by Knight Ridder Tribune (KRT) Services. Through KRT, the longer format "The Bond" column and shorter "Bite Size Pet News" are delivered to more than 500 newspapers and have an estimated weekly readership of more than 20 million.
In association with the American Animal Hospital Association (AAHA), Dr. Becker hosts a nationally syndicated radio program, "Top Vets Talk Pets" on the Health Radio Network. The radio program operates on the powerful premise that people's relationships with their animals enhance and enrich each other's lives.
All of Dr. Becker's communication platforms offer powerful, educational, celebratory, unifying messages regarding the special "bond" between animals and people.
Dr. Becker is also the popular veterinary contributor to ABC-TV's, "Good Morning America" and Naomi's New Morning on the Hallmark Channel. Additionally, he has appeared in segments on Animal Planet, and is a frequent guest on many national network and cable TV and radio shows. Dr. Becker is a contributing editor for Cat Fancy and a contributor to Reader's Digest.
An adjunct professor at both his alma mater, Washington State University College of Veterinary Medicine and Colorado State University College of Veterinary Medicine, Dr. Becker was the Chief Veterinary Correspondent for Amazon.com for several years and just recently resigned as the Practice Leadership Editor for Veterinary Economics magazine, a position he held for almost 15 years.
Dr. Becker is co-author of the fastest selling pet book in history, Chicken Soup for the Pet Lover's Soul. Dr. Becker's book, The Healing Power of Pets - harnessing the amazing ability of pets to make and keep people happy and healthy was awarded the prestigious Silver Award in the National Health Information Awards for 2002. Dr. Becker's latest book, Chicken Soup for the Horse Lover's Soul (Health Communications July 2003), was featured in USA Today as one of top five best selling sports books of 2003. Dr. Becker is currently working on four new books, Chicken Soup for the Dog Lover's Soul and Chicken Soup for the Cat Lover's Soul (Health Communications, September 27, 2005), Chicken Soup for the Horse Lover's Soul 2 (Health Communications, February 2006) and Fitness Unleashed: a dog and owner's guide to losing weight and gaining health together (Three Rivers Press, May 2006).
Dr. Becker has been featured on ABC, NBC, CBS, CNN, PBS, BBC, 20/20, Unsolved Mysteries and in USA Today, USA Weekend, The New York Times, The New York Daily News, Washington Post, Reader's Digest, Forbes, Better Homes & Gardens, Christian Science Monitor, Woman's Day, National Geographic Kids, National Geographic Traveler, Cosmopolitan, Glamour, Parents, Shape, Star, Men's Health, US Weekly, Natural Health, and major Web sites such as ABCNews.com, Amazon.com, Prevention.com, Forbes.com and iVillage.
Dr. Becker has lectured at the Smithsonian Institution and at every veterinary school in America. On six continents and in dozens of countries, Dr. Becker has been a leader in changing the way we interact with and take responsibility for our pet companions. Dr. Becker is the recipient of several professional honors and awards including the MSPCA (Massachusetts Society for the Prevention of Cruelty to Animals) 2001 Veterinarian of the Year and in 2002 was the first recipient of VPI Skeeter Foundation Award on behalf of the human-pet bond in recognition of Dr. Becker's life- long commitment and vision in promoting the value of pets beyond companionship.
Also in 2002, the Delta Society and the American Veterinary Medical Association (AVMA) presented Dr. Becker with the prestigious Bustad Award, as the 2002 Companion Animal Veterinarian of the Year for the United States. In October of 2004, Dr. Becker had the honor of being chosen as the National Spokesperson for the AVMA's inaugural National Pet Wellness Month. In December 2004, Pet Sitters International (PSI) honored Dr. Becker with their prestigious, Top Dog award in honor of his contributions to and support of PSI's sixth annual Take Your Dog To Work Day.
When he isn't traveling the globe speaking passionately about the importance of The Bond, Dr. Becker devotes his life to his family, which includes his beloved wife of twenty-five years, Teresa, daughter Mikkel and son Lex, along with their other kids:
1 Golden retriever puppy, Shakira (yes, blondes have more fun!) 2 Papillon/Yorkie/poodle cross or porkie-poo called Quixote (God has a sense of humor!) 3 One fish: Jake the betta 4 Five barn cats: Tommy, Colby, Krissi, Varmint, and Scrat (these cats are trained to do tricks!) 5 Four quarter horses: Gabriel, Glo Lopin, Pegasus and Sugar Babe (four words summarize his experience with horses: They neigh I Pay!)
Series
Books:
Your Dog: The Owner's Manual, April 2011
Hardcover
The Ultimate Bird Lover, February 2010
Paperback
The Ultimate Dog Lover, August 2008
Paperback
The Ultimate Cat Lover, August 2008
Paperback
bowWOW!, November 2007
Paperback
meowWOW!, November 2007
Hardcover
Why Do Horses Sleep Standing Up?, October 2007
Hardcover
Why Do Dogs Drink Out of the Toilet?, September 2006
Paperback
Do Cats Always Land on Their Feet?, September 2006
Paperback
Fitness Unleashed!, May 2006
Trade Size
Chicken Soup for the Horse Lover's Soul II, March 2006
Chicken Soup for the Soul
Trade Size
Chicken Soup for the Cat Lover's Soul, September 2005
Chicken Soup
Trade Size (reprint)
Chicken Soup for the Dog Lover's Soul, September 2005
Chicken Soup
Trade Size