Leeza Gibbons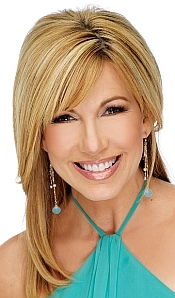 Every time Hollywood thinks they've figured her out, she cleverly moves another step up the ladder and successfully takes another title among her many achievements. It's Leeza Gibbons' passion and drive combined with her wit and wisdom that have enabled her to become one of the most respected and recognized professionals in the broadcast industry.
From television news journalist and host, to radio personality, producer, businesswoman, mother and wife, Gibbons has been entering America's living rooms for over 20 years.
Gibbons graduated magna cum laude from the University of South Carolina's School of Journalism and won the school's "Outstanding Alumnus Award" in 1992. She has been inducted into the South Carolina Hall of Fame and received the Order of the Palmetto; the highest civilian honor given by the state.
In addition to being a member of the prestigious Women in Film, Gibbons is also a member of Sigma Delta Chi and American Woman in Radio and Television.
Gibbons leads a life of gratitude and while thrilled with all of her many professional accomplishments, she is most proud of her own family life. Married to architect/actor Stephen Meadows, they have three children: daughter Lexi, and sons Troy and Nathan.
Series
Books:
Take 2, February 2013
Hardcover
Take Your Oxygen First, May 2009
Paperback
Scrapbooking Traditions, January 2005
Hardcover