Peggy Noonan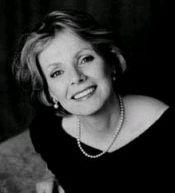 Peggy Noonan is the best selling author of five books on American politics, history and culture. She is a contributing editor of The Wall Street Journal and a weekly columnist for the Journal's editorial page website. Her articles and essays have appeared in Forbes, Time, Newsweek, the Washington Post, "O" Magazine, the New York Times and other publications. She is a frequent guest on political talk shows. She has been nominated for an Emmy Award for the writing of a post-9/11 television special, and has been an advisor on the television drama The West Wing. Noonan is a member of the board of the Manhattan Institute.
Her most recent book, "When Character Was King: A Story of Ronald Reagan," was published by Viking Penguin Publishers in November, 2001 and became a New York Times bestseller. Noonan is also the author of the best selling "The Case Against Hillary Clinton" (HarperCollins, March, 2000). Her first book, "What I Saw at the Revolution" was called "A love letter to the American political process," by Time Magazine. Her second book, "Life, Liberty and the Pursuit of Happiness" was called "the voice of our times" by USA Today. Noonan's third book, "Simply Speaking," was published in paperback as "On Speaking Well," in 1999; Forbes magazine said of it, "Peggy Noonan packs a wallop of practical wisdom and insightful tips for rookie and veteran speechmakers alike… this wee volume, written by one of this century's premier presidential speechwriters, will guide you correctly."
In 1996, Noonan was one of ten historians and writers who contributed essays on the American presidency for the book, "Character Above All." In 1995 she wrote and hosted a PBS series on the debate over American values. Noonan was a special assistant to President Ronald Reagan from 1984 to 1986. In 1988 she was chief speechwriter for George Bush when he ran for the presidency.
She holds honorary doctorates from Long Island's Adelphi University, St. John Fisher College, and her alma mater, Fairleigh Dickinson University. Before entering the Reagan White House, Noonan was a producer at CBS News in New York, where she wrote and produced Dan Rather's daily radio commentary. She also wrote television news specials for CBS News. As editorial and public affairs director at WEEI- AM, the CBS owned station in Boston, she won the Tom Philips Award for broadcast commentary. In 1978 and 1979 she was an adjunct professor of journalism at New York University.
She lives in Brooklyn, New York, with her son.
Series
Books:
The Time of Our Lives, November 2015
Hardcover
Patriotic Grace, October 2008
Hardcover
John Paul the Great, November 2005
Hardcover
A Heart, A Cross, And A Flag, September 2004
Paperback
What I Saw At The Revolution, October 2003
Paperback
When Character Was King, October 2002
Paperback
On Speaking Well, March 1999
Paperback