Frank Peretti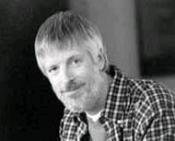 With more than 10 million novels in print, Frank Peretti is nothing short of a publishing phenomenon-the world's hottest writer of spiritual thrillers.
If you asked "What is Frank Peretti best known for"? You might get a wide variety of answers. Many people would quickly refer you to his biggest works This Present Darkness, Piercing the Darkness, The Oath or even The Visitation. If you asked a teenager, they might tell you about his best selling series of Veritas Project books including Hangman's Curse and Nightmare Academy. In the Pro-Life movement you would surely hear about Frank's classic Tilly. And if you spoke to the very young - you'd hear all about the great adventures in The Cooper Kid's Series or the amazing adventures played out in the video series The Wild and Wacky World of Mr. Henry.
If you asked Frank Peretti to tell you a bit about himself - He would probably point you to his first non- fiction word, The Wounded Spirit. Written from an autobiographical perspective, Frank dives into many painful topics that kids in schools face every day.
Work and Hobbies
Peretti studied English and film at UCLA, and then assisted his father in pastoring a small Assembly of God church. He now writes full time and does short speaking tours as his schedule allows.
Frank and his wife Barbara Jean live in the Pacific Northwest, where he writes and enjoys carpentry, banjo making and piloting a plane.
Series
Books:
The Assault, August 2017
Paperback
Invitation, April 2017
Cycle One of the Harbingers Series
Paperback
Monster, May 2005
Hardcover