"Finding old bones in the desert is normal but when a fresh body is found, danger isn't far behind."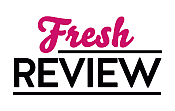 Reviewed by Rosie Bindra
Posted December 21, 2022

Forensic anthropologist Zoe Miller often goes into the desert in Arizona with her three friends to help find the remains of migrants who died while trying to cross the desert in the hopes of helping bring closure to their families. Now that she's moving across the country for a new job, Zoe makes one last trip with her friends but the fresh body she comes across puts her in the spotlight with some very bad people. After a scary kidnapping, Zoe is getting protection, whether she likes it or not.
FBI HRT operator Seth Hopper is on assignment in Arizona when he gets tasked to rescue Zoe. When Zoe insists on still making the long cross-country drive to her new home, Seth finds himself playing bodyguard. The sparks were flying before Zoe and Seth even spoke to each other but now that they're trapped in a vehicle together, it's not long before that spark ignites. Someone still wants Zoe dead though, and if Seth lets himself get too distracted, it could be the end for them before anything gets started.
It's no secret at this point that I am obsessed with Toni Anderson's Cold Justice series. COLD DECEIT is part of her spin-off series, Most Wanted, and it brings everything I've come to expect from Anderson's books: heart-pounding action, adventure, super hot romance, intense danger, betrayal, and much more. Anderson takes us to a new setting on this adventure and we learn a bit about drug trafficking and the perils of desperate people when they take the risk of migrating across a desert. I love the adventure we're taken on as Seth and Zoe make their way cross-country, never knowing where the danger will come from. . . I just finished this book and I'm already looking forward to the next one. Until then, I'll just do some re-reading while I wait.
SUMMARY
When forensic anthropologist Zoe Miller stumbles across a murder victim in the blisteringly hostile Sonoran Desert, she triggers a chain of events that puts her in the crosshairs of a ruthless killer.
FBI HRT operator Seth Hopper is on secret assignment near the Mexican border when he suddenly finds himself on a rescue mission. The former Navy SEAL is ordered to protect Zoe, whether she likes it or not, which sets them off on a cross-country journey back to Virginia.
Zoe has good reason not to trust a man like Seth, but there is no denying the scorching heat that flares between them, hotter than the desert sun. Can Zoe find justice for the murdered woman? Or will the killers close in to destroy them both…
---
What do you think about this review?
Comments
No comments posted.

Registered users may leave comments.
Log in or register now!