"Coming-of-age was never so funny..."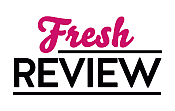 Reviewed by Lissa Staley
Posted April 5, 2006

Heaven lost her job at a PR firm, so she's working as a waitress at a trendy New York City restaurant while she figures out what to do next. She's between boyfriends, although she plans to get married before she turns 27, due to her morbid obsession with celebrities who die young. She's trying to prepare herself for anything that might come up in life, but isn't looking for something in particular.
Brady just walked away from a rent-controlled apartment and a psycho ex-girlfriend. He meets his perky and pesky neighbor when Heaven brings over his mail, which she received by mistake but opened and read quite intentionally. Brady's small record label is struggling to compete in the major markets, but Brady is more concerned with his fabulous ideas for practical inventions, which other people keep stealing. Brady decides to track down the owner of Starbucks coffee to convince him to market Cinnamilk, a beverage flavored like the leftover milk from a bowl of Cinnamon Toast Crunch cereal. When Heaven sees Brady's plane ticket in her mailbox, she decides to tag along on a cross-country trip that might just change everything.
Heaven and Brady are honest and hilarious characters who take turns sharing their version of this 20-something coming-of-age story. If you recognize the title of the book as song lyrics from Nirvana's Smells like Teen Spirit, you'll definitely get a kick out of this book. Written in he-said/she-said format, this novel includes many movie quotes and music references that reflect the best of Gen-X culture. Caprice Crane plays off of her celebrity parentage -- her mother is actress Tina Louise, who played Ginger on Gilligan's Island, and her father is Les Crane, who hosted a 1960s evening TV talk show -- and her own insider status as a head writer at MTV. Her enjoyable debut novel takes a hilarious snapshot of a generation through the lives, voices and romances of two new neighbors.
SUMMARY
Twenty-six-year-old Heaven Albright is a failed PR executive turned embittered waitress. Twenty-nine-year-old Brady Gilbert is a struggling independent music producer with no bands and a get-rich quick product idea: "Cinnamilk"--a delicious beverage derived from leaving cereal in the bowl too long. What do these two people have in common? Not much--except for a shared dislike for one another as neighbors. You see, Heaven has an annoying habit of opening Brady's mail. The tide turns, however, when she rescues Brady from an awkward encounter with his psycho ex-girlfriend, sparking an unlikely friendship and a united quest to pitch Cinnamilk to the founder of America's biggest coffee chain. But will Brady and Heaven's fortune-seeking adventures also brew romance?
---
What do you think about this review?
Comments
1 comment posted.
Re: Coming-of-age was never so funny...

One of the worst things that can happen to people is the
fact they don't follow instructions. One of the bet
things you can do to protect people from the wrath of
other people is to make it difficult for them to creep in
your secrets and then worry about the problems they face.
(Bethany Waytt 5:15am June 13, 2017)
Registered users may leave comments.
Log in or register now!