"What dark secrets lurk in this small town?"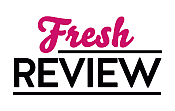 Reviewed by Debbie Wiley
Posted April 21, 2022

Mystery Woman Sleuth | Mystery Cozy
Paisley Sutton is excited about her next salvaging project- an antique log cabin made with oak is sure to make her some money. Even better, she hopes to explore the history and find a few nuggets of treasure for her business. Unfortunately, she instead finds a dead body and has to call her boyfriend, Sheriff Santiago "Santi" Shifflet, to investigate. Meanwhile, a young woman is missing. Are the two mysteries related? Paisley excels at digging up historical facts about the people and places related to her salvaging business as she and Santiago work hand in hand to uncover what is going on in Octonia.
ACF Bookens perfectly captures that small town feeling in BLOOD AND BACK STITCHES. I love how all the various characters work together, whether it's a search for a missing person or bringing food to any sort of gathering. Lurking under the surface of Octonia, however, are some dark secrets that Paisley and Santiago uncover. I have to admit that the story took an unexpected, albeit quite intriguing and horrifying turn, once Paisley and Santiago uncover the whys behind the dead body. I love that ACF Bookens shows the humanity and kindness for those left scarred by the crimes even as we see the heartache left behind.
And the characters… oh I adore the relationship between Santiago and Paisley! I love that they have their little moments of quiet peace at home together amidst all the other action surrounding the murder and missing persons cases. I let out a little cheer when they sat down to watch Baby Yoda in The Mandalorian too- after all, who doesn't appreciate the calming qualities of watching Baby Yoda?
BLOOD AND BACK STITCHES is the 7th book in the Stitches in Crime series and can easily be read as a standalone story. However, I suspect readers (like me) will want more of Paisley, Santiago, Sawyer, and the rest of Paisley's family and friends after finishing this delightfully good story! The historical perspective of the tale is just as intriguing (if not more) than the current day murder and it's so fascinating to watch the pieces come together. I can't wait to read the next installment!
SUMMARY


When Paisley Sutton gets the chance to salvage from her first antique log cabin, she is ecstatic, until she finds the body of a murdered man in the back room. When she and her friends begin to look into who he is and why he's dead, they uncover a heap of stories no one in town wants them to know.

Will the truth set them free or get them killed?
---
What do you think about this review?
Comments
No comments posted.

Registered users may leave comments.
Log in or register now!