"Plucky space pirates fight against the evil galactic ruler"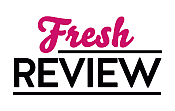 Reviewed by Make Kay
Posted April 23, 2020

Romance Science Fiction | Romance Fantasy
Amanda Bouchet's STARBREAKER, book two in the Endeavor sci-fi romance series, offers plenty of thrills to binge on. Bouchet's first series, the Kingmaker Chronicles, was a fantasy series. But Bouchet once again shows off her science fiction chops in her follow up to the first book, Nightchaser. Bouchet's worldbuilding is fantastic, and the universe that our heroine Tess, her erstwhile assassin-turned-lover Slade, and their compatriots inhabit is utterly engrossing.
Tess was raised as the daughter of the evil overlord of the galaxy, the Galactic Overseer. Think if Darth Vader were your father! She's got a conscience, though, and she's fighting for the resistance. I adore Tess. She's such an engaging space pirate with a heart. She and her crew run the blockades to bring vaccines and food to the desperate peoples who are trodden upon by the galactic empire. She's mouthy and rash, and oh so much fun.
Slade was previously a Dark Watch bounty hunter who was intending to bring Tess in for a massive reward in Nightchaser. Now, he has joined Tess's crew and is helping the resistance, although not everyone trusts him yet. I like that Slade and Tess are still feeling their way in the relationship, making the romance feel somewhat unsettled. It brings some tension to that plotline. Tess's uncle, who is the number two in command under the Galactic Overseer, has crawled out of the woodwork and offers to help Tess rescue some rebels from a galactic dungeon. The whole can-she-trust-him ambiguity is delicious. The uncle's bodyguard is embedded with Tess's crew, and she's a joy to read about because she's such a badass. Plus the wait to see if she will betray the rebels keeps the tension ratcheted up.
Bouchet's STARBREAKER builds upon a strong beginning, bringing the world of galactic evil further into focus. Plucky rebels fighting against an evil empire will be a familiar concept to readers, but Bouchet keeps it fresh and exciting. STARBREAKER offers plenty of romance, derring-do, and intrigue, and I eagerly await the next in the series.
SUMMARY
THEY NEVER WANTED TO BE HEROES
Captain Tess Bailey and Shade Ganavan are still the galaxy's Most Wanted, and with revolution in the wind and the universe on the brink of catastrophic war, the situation couldn't be more desperate. Despite the Dark Watch scouring the known sectors for them, rebel leaders have handed the crew of the Endeavor a delicate and dangerous mission: break into Starbase 12 and free renowned scientist Reena Ahern. She's the only one who stands a chance of tipping the odds in their favor for the first time in decades.
BUT PULLING OFF THE IMPOSSIBLE IS WHAT THEY DO BEST
The clock is ticking. But as their attraction builds and secrets are revealed, Tess and Shade must decide if they trust each other enough to execute this impossible prison break. They could change the course of history, but they'll be risking everything... They'll just have to tackle one crisis at a time.
---
What do you think about this review?
Comments
No comments posted.

Registered users may leave comments.
Log in or register now!