"Can the quilters uncover a murderer?"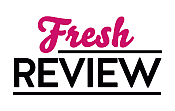 Reviewed by Debbie Wiley
Posted June 9, 2019

Mystery Woman Sleuth | Mystery Hobbies | Mystery Cozy
Portia "Po" Paltrow is out early when she notices things seem too quiet along the Elderberry Road shops. She follows her instincts and finds the dead body of Owen Hill, board member of the Elderberry Shop Owners Corporation, blocking the open doorway to Selma Parker's quilt shop. Unfortunately, suspicion is swirling around the small community of Crestwood and it's up to the quilters who frequent Selma's shop to uncover who is behind the murder.
Po is a fascinating main character, and I love her spunk! She's the main narrator of the storyline although we meet a plethora of other characters, particularly quilters. It's difficult in a first novel to fully develop characters and Sally Goldenbaum has quite a few of them. I look forward to getting to know each of the characters better as Kate Simpson, Selma, Susan, Phoebe, and the rest of the quilters are all very different in personalities but extremely loyal to their friends.
A PATCHWORK OF CLUES is the first book in the Queen Bees Quilt Shop mystery series. I love the quilting aspect of the story line, and Sally Goldenbaum incorporates it into almost all aspects of the mystery. I didn't know much about quilting when I first started reading A PATCHWORK OF CLUES, but Sally Goldenbaum has helped me better understand the intricate work that goes into such beautiful, handmade works of art. I can't wait to read the next book, A THREAD OF DARKNESS! If you love cozy mysteries and have any interest in quilting, then A PATCHWORK OF CLUES is the perfect mystery for you.
SUMMARY
On her morning jog, Portia Paltrow comes upon the dead body of antiques store owner and college professor Owen Hill, sprawled across the back doorstep of Selma Parker's fabric and quilt shop on Elderberry Road. The site of their Saturday morning quilting bee just became a crime scene. Violent crime is rare in the charming village of Crestwood, Kansas, and rumors are soon circulating of a burglary gone wrong. But who would rob a quilt shop? No, Owen Hill has been murdered.
Selma and her assistant manager Susan are understandably at loose ends over the crime. So while the tightly knit covey of quilters—who range from a new mother to a wise octogenarian—work together on a Crystal Pattern quilt for Selma's store's anniversary, they also get busy stitching together a patchwork of clues. But they'd better work fast—before a crafty killer bolts . . .
---
What do you think about this review?
Comments
No comments posted.

Registered users may leave comments.
Log in or register now!