"Some secrets are worth killing for."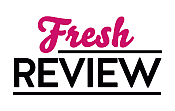 Reviewed by Rosie Bindra
Posted December 23, 2016

Madeline Chase and her best friend, Daphne Knight, both lost their young innocence at the age of twelve when they were attacked by a stranger. Carrying the secrets from that night, Madeline has spent the last eighteen years of her life trying to move on from that incident. With the death of her grandmother though, the past is finally coming back to haunt Madeline, forcing her to return to the now abandoned hotel on Copper Island. Turning to her grandmother's new security expert for help, Madeline is ready to confront the past and a killer who is determined to keep it buried.
Jack Rayner has spent a lot of time figuring out how dangerous minds work, which makes him better at security than it does at relationships, but helping Madeline find out who is targeting the people that have knowledge of the attack from her past has more to do with how Jack feels about her as a woman than it does about his desire to show his employer he's good as what he does. With the help of his computer whiz brother Abe and Daphne, Jack and Madeline are ready to hunt down the truth, even if it puts all four of them in the cross-hairs of a killer.
While I've always enjoyed all of Jayne Ann Krentz's various personalities, it's her romantic suspense books that originally got me hooked on her writing, and I'm thrilled she's come back to this genre, implausibly better than ever.
In SECRET SISTERS, Krentz deftly handles two love stories simultaneously while weaving a complex mystery full of ambitions, family secrets and murder. One of the things I find that Krentz does really well is giving readers breadcrumbs that lead them in a certain direction and just when the readers think they have it all figured out, she twists the story and makes it all that much more interesting. Though SECRET SISTERS is more suspense heavy than Krentz's usual books, the engaging characters and dark mystery make up for it tenfold.
SUMMARY
No one does romantic suspense better than Jayne Ann Krentz. Now, the New York Times bestselling author of Trust No One and River Road delivers a novel that twists and turns into a read that will leave you breathless.
Madeline and Daphne were once as close as sisters—until a secret tore them apart. Now it might take them to their graves.
They knew his name, the man who tried to brutally attack twelve-year-old Madeline in her grandmother's hotel. They thought they knew his fate. He wouldn't be bothering them anymore...ever. Still their lives would never be the same.
Madeline has returned to Washington after her grandmother's mysterious death. And at the old, abandoned hotel—a place she never wanted to see again—a dying man's last words convey a warning: the secrets she and Daphne believed buried forever have been discovered.
Now, after almost two decades, Madeline and Daphne will be reunited in friendship and in fear. Unable to trust the local police, Madeline summons Jack Rayner, the hotel chain's new security expert. Despite the secrets and mysteries that surround him, Jack is the only one she trusts...and wants.
Jack is no good at relationships but he does possess a specific skill set that includes a profoundly intimate understanding of warped and dangerous minds. With the assistance of Jack's brother, Abe, a high-tech magician, the four of them will form an uneasy alliance against a killer who will stop at nothing to hide the truth....
---
What do you think about this review?
Comments
No comments posted.

Registered users may leave comments.
Log in or register now!