"A Secret Service Agent Hunts Counterfeiters but Finds Romance Instead"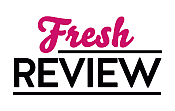 Reviewed by Min Jung
Posted June 24, 2011

Maria "Goose" di Guzman is a Secret Service agent who has been sent to frigid Mishkawa Island as penance for her mishandling of a sexual harassment situation. Her official assignment is to check out park ranger and former Navy SEAL Rush Guthrie to see if he has a vendetta against the state governor. There are reports that he may be leading a group targeting the governor and making threats against him by way of a pitchfork.
After Goose gets that straightened out, her boss lets her know she's not coming back yet. There's another matter to be investigated. It seems that someone in the area has taken an interest in counterfeiting. During Goose's investigation, she narrows in two main suspects, who happen to be in Rush's family - Einnar and Yarrow, who are each other's step-cousins (by marriage).
Einnar is roughly Rush's age, and he's the typical, hunky, self-assured guy. Meanwhile, Yarrow is a sullen teenager, who has a major crush on Einnar. Yarrow spends her time pining after Einnar, and Goose becomes convinced that they are somehow involved in the counterfeiting scheme.
To complicate matters, Rush has set his sights on Goose and is determined to somehow get her to let her guard down. But what secrets is she hiding? Why is she guarded? And will Rush still feel the same way about her when he finds out that she's targeting his family in her investigation?
This book was a flirty read, with a plot that was easy to follow while not being mind-numbingly boring. Although the plot involved counterfeiting, supernotes, and foreign trade, the author was able to make this easy to understand, although it wasn't a thriller, so it makes sense that this aspect of the book wasn't highly technical. The secrets that both Rush and Maria carry with them from their past were completely unpredictable, and it added to the depths of their characters.
SUMMARY
READY...

Secret Service Agent Maria "Goose" di Guzman knows something about penance. A tragic mistake forced her to replace the dangerous, impulsive girl she'd been with someone better, smarter. Someone sexy, cool and utterly controlled. But one crack in her perfect facade lands Goose on tiny Mishkwa Island, investigating naked hippies, frisky moose, and a red hot park ranger who sees straight through her.

AIM...

When Rush Guthrie traded in an elite military career to police his tiny island home town, he got a pretty good deal: a park ranger's badge, a resurrected conscience, and signed off life from his MIA sense of humor. A guy couldn't want anything more. But when Goose turns up--all sexy curves, sad eyes, and thorny questions--Rush realizes he can want more. A lot more.

FIRE!

While Goose pursues the island's deepest secrets, Rush pursues the brave, funny woman inside all that careful perfection. But the truths they uncover put everything on the line--life, death and true love. And they'll only get one shot at all of it.
---
What do you think about this review?
Comments
1 comment posted.
Re: A Secret Service Agent Hunts Counterfeiters but Finds Romance Instead

Thanks for taking the time to review! I'm so glad you enjoyed the read!
(Susan Sey 10:52am June 24, 2011)
Registered users may leave comments.
Log in or register now!