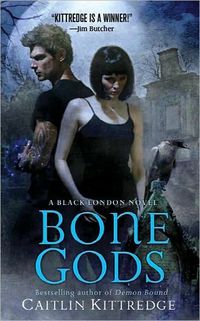 Bone Gods, December 2010
Black London #3
by Caitlin Kittredge

St. Martin's Press
Featuring: Pete Caldecott; Jack Winter
352 pages
ISBN: 0312388209
EAN: 9780312388201
Mass Market Paperback
Add to Wish List

Purchase
"Necromantic Magic and Machinations of Gods are no Match for A Heroine with a Big Pair of Brass Ones"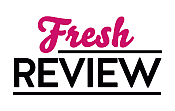 Reviewed by Diana Troldahl
Posted January 5, 2011

Pete is walking the dark alone, now that Jack the Crow Mage is serving his time in hell.
When a tortured body covered in sigils and oozing black magic is found at the feet of Ramses II in the British Museum, her old partner Ollie Heath calls her in on the bizarre scene. Former DC Pete 'Petunia' Caldecott has to dive into the cesspool of necromantic magic on her own, using the connections she met when Jack was by her side, and getting what she needs through bluff and brass without his massive magic as back up.
The Dark is chancier than ever and the Witch Finders are fighting back the only way they know how, by burning the good along with the evil, and trying to blackmail Pete into helping them. Hecate is still banging on about Pete needing to kill the Crow Mage even though Jack is gone, likely dead. As she faces challenges more bitter than she's ever encountered, Pete feels the loss of Jack more with each breath. But when Jack shows up, having mysteriously gained his freedom, is it the same Jack she lost, or something evil in Jack's skin?
Kittredge does another fantastic job in BONE GODS, Book 3 in her Black London series. As tough as Pete was with Jack by her side, it is even more satisfying to see her work around her vulnerabilities and push her boundaries when working the case on her own with a little help from some old friends. It's good to see a series that manages to raise the stakes with each subsequent book, and this entry lays the groundwork for a lot of great reading to come in future volumes.
SUMMARY
Witch hunts are on the rise and supernatural turf wars are reaching a boiling point. Then, just when it seems life couldn't get any worse for Pete, Jack reappears—but he's no longer the man she's always known. Hell has changed him forever. And he's brought back with him a whole world of trouble…
A cabal of necromancers are using ancient, unspeakable magic to turn the tide of war in their favor. Then, as the city is about to sink into chaos, Pete receives a chilling directive: To end the war, you must kill the crow-mage. Beset from all sides, Pete finds herself turning to an unholy source for help…even if doing so could destroy Black London—and life as she knew it—once and for all.
---
What do you think about this review?
Comments
1 comment posted.
Re: Necromantic Magic and Machinations of Gods are no Match for A Heroine with a Big Pair of Brass Ones

Diana here,
The review states BONE GODS is book 4 in the Black Longon
series. It is in fact book 3. Book 4, 'Devil's Business', is
due out August 30, 1011.
My apologies for the error.
(Diana Troldahl 4:15pm January 7, 2011)
Registered users may leave comments.
Log in or register now!