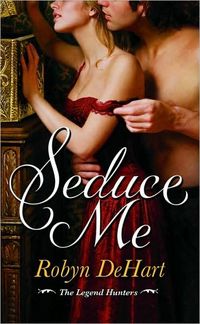 Seduce Me, August 2009
Legend Hunters #1
by Robyn DeHart

Forever
Featuring: Esme Worthington; Fielding Grey
320 pages
ISBN: 0446542008
EAN: 9780446542005
Mass Market Paperback
Add to Wish List

Purchase
"An "Indiana Jones"-type of adventure with thrills, legends and romance."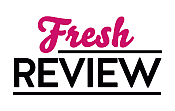 Reviewed by Suan Wilson
Posted July 13, 2009

After her parent's death, Miss Esme Worthington has clung to her scholarly research into legendary treasures. She dreams of danger and adventure, while knowing her books are as close to excitement as she will get. When Esme interrupts masked men rifling through her library in the middle of the night, she achieves the adventure she seeks. They kidnap her and imprison her in the dungeon of a deserted castle. After questioning her about an ancient key her father gave her, they begin digging for Pandora's Box.
Fielding Grey, an adventurer and treasurer seeker, follows the Raven's henchmen to the fabled Pandora's Box. When he sees a young woman dangling from manacles, Fielding changes his plan. Originally, he was hired to retrieve Pandora's Box for the famous and secretive Solomon's Club. The money was sufficient for Fielding to ignore the grudge he's held against the club for their part in his father's death. Fielding is ecstatic when he rescues the damsel while relieving the villains of the box. That is until Esme takes a peek into the box.
Fielding has a short time to break the curse that Esme has brought upon herself with her curiosity. Villains are everywhere and Esme and Fielding race to outwit them and look for a solution to their problem. Leaping from one situation to another, Esme finally has her adventure, but she doesn't know if she can capture the man of her dreams.
If you are looking for a change of pace from Regencies, I would strongly recommend Ms. DeHart's newest tale. It is an "Indiana Jones"-type of adventure with thrills, legends and romance. Esme and Fielding evade the villains, search for legendary treasures and endure one hair-raising adventure after another. This first book in the Legend Hunters trilogy definitely belongs on the keeper shelf.
SUMMARY
Fielding Grey is the second son of the Marquess of Eldon and fortune hunter by night. He's on a mission for the Legend Hunters--a group of wealthy, titled, and heart-breakingly gorgeous men, each of whom are after the find of the century--he has his eyes set on obtaining the illustrious Pandora's Box. But before he finds it, he encounters an equally alluring treasure--the woman bold enough to look inside.


Esme Worthington can't resist taking the tiniest peek inside when fate drops the real Pandora's Box in her lap. Thus, she unleashes one of Pandora's irresistible curses: the curse of lust. Now, both Esme and Fielding must deal with this passionate curse--or blessing?--before unknown implications of Pandora's Box overpower them both.
Videos
---
What do you think about this review?
Comments
No comments posted.

Registered users may leave comments.
Log in or register now!