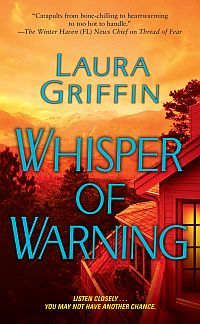 Whisper of Warning, April 2009
Glass Sisters #2
by Laura Griffin

Pocket Star
Featuring: Will Hodges; Courtney Glass; Nathan Devereaux, Fiona Glass, and Jack Bowman
336 pages
ISBN: 1416570640
EAN: 9781416570646
Mass Market Paperback
Add to Wish List

Purchase
"A gripping romantic suspense that will keep you guessing until the final page."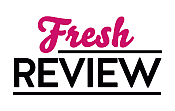 Reviewed by Suan Wilson
Posted March 16, 2009

When Courtney Glass arrives to meet ex-boyfriend John Alvin at a deserted bike trail for a showdown, she does not expect for a mask man with a gun to jump into her car. Thinking it's a robbery, Courtney's amazement turns to shock when the gunman grabs her hand and slaps a pistol in it forcing her fingers to pull the trigger. John is dead and only quick thinking allows her to escape.
No one believes her slightly altered tale because who would believe the truth. The facts point against her and she becomes the number one suspect. Detective Will Hodges' gut says she's innocent of murder, but her story does not ring true. All the evidence uncovered points to Courtney. Will's superiors are breathing down his neck for an arrest. He cannot let his feelings for Courtney interfere with the facts.
With few on her side, Courtney believes she must solve the case herself. A complicated plot emerges as she finds more victims that tie into the murder. When more attempts on her life occur without witnesses, the police refuse to refocus on other suspects. Courtney's options are limited and running away might be the only way she can save her life.
In this sequel to THREAD OF FEAR, Ms. Griffin once again proves she is a terrific writer! Her romantic suspense produces heart-stopping thrills and just when you relax, she notches up and takes off at a breakneck pace. The tightly constructed plot keeps readers guessing until the end. Ms. Griffin has written another book for the keeper shelf.
SUMMARY
When Courtney Glass finds herself at the heart of a brutal murder plot, she has two choices: run, or trust the detective in charge to discover the truth. But when their attraction gets the better of them, has she found the perfect man, or enabled the perfect crime?
Courtney Glass has been in trouble all her life, but nothing tops being an up-close witness to a brutal murder. Until she's accused of the crime.
Every scrap of evidence points to her guilt, and only Courtney knows what really happened. Now she must prove that she's not a murderer…but is one of the killer's intended victims. As police investigators hammer her for answers, Courtney knows she has two choices: run, or trust the brooding, sexy detective who's made it clear she's his prime suspect.
---
What do you think about this review?
Comments
No comments posted.

Registered users may leave comments.
Log in or register now!