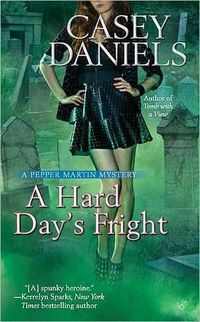 Purchase
Berkley
April 2011
On Sale: April 5, 2011
Featuring: Pepper
304 pages
ISBN: 0425240568
EAN: 9780425240564
Paperback
Add to Wish List

Mystery Private Eye, Mystery Woman Sleuth
August 14, 1966
Here's the thing people don't get about Lucy Pasternak, I mean people who never met her: Lucy sparkled.
Back when the rest of us Baby Boomers where white bread ordinary, Lucy was one of the beautiful people. Inside and out. She wasn't afraid to let it show, either. Lucy let her personality shine through, no matter what people said or thought about her. Like that time the kids in her sophomore class were picking on a newcomer simply because she was new, and Lucy stood up for the girl and welcomed her to her lunch table (which, because it was Lucy's, was the lunch table).
Or the night we went to the Beatles concert at Cleveland Municipal Stadium, and Lucy wore a miniskirt seven inches above her knees. Nobody was doing that then. I mean, nobody but the models in the fashion magazines. My mother practically choked when Lucy walked in to pick me up to go the concert. And me? I don't think the word dork had been coined yet, but I didn't need a word to explain how I felt standing next to tall, reed-thin Lucy in my turquoise and white plaid skirt, my blue blouse, my knee socks, and the matching cardigan my mother insisted I wear in case it got chilly. Oh yeah, I was a dork, all right, and I could only pray that by the time three years passed and I was seventeen—as old and mature as Lucy—I'd be half as cool.