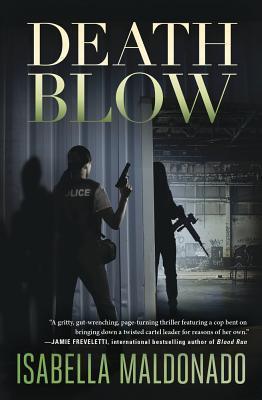 Purchase
A Veranda Cruz Mystery
Midnight Ink
March 2019
On Sale: March 8, 2019
ISBN: 0738751030
EAN: 9780738751030
Kindle: B07D5TYWGC
e-Book
Add to Wish List

Mystery | Mystery Woman Sleuth
Homicide detective Veranda Cruz takes on the most ruthless member of the Villalobos cartel.
Phoenix homicide detective Veranda Cruz is on a mission. After Hector Villalobos tried to destroy her family, Veranda vowed to take down his powerful crime syndicate.
Beautiful, shrewd, and lethal, Daria Villalobos is on a mission of her own. Determined to be the first woman to take the reins of her father's notorious cartel, she hatches a plot to eliminate Veranda.
When the investigation blows up in Veranda's face, the hunt is on to stop a bomber. Veranda battles her department and her personal demons as she takes on Daria. To survive her most cunning adversary yet, will she make a pact with a killer?
Comments
25 comments posted.
Re: Death Blow

We're a match!
(Jana B 3:07pm April 8, 2019)
Sounds like a book I would like to read.
(Jane Squires 3:56pm April 8, 2019)
This series sounds like a perfect match for me. One of the things I love about Fresh Fiction is that I get to learn about new authors and series. I read a lot but no one can keep up with every book without sites like this one. I'll be trying this author's books.
(Mary Songer 3:57pm April 8, 2019)
Sounds like a book I must get my hands on!
(Jesse Mendez 6:50pm April 8, 2019)
love a good mystery thriller
(Margo Beredjiklian 8:44am April 9, 2019)
Love cop shows. And your description of yourself sounds as intriguing as your books. We're definitely a match - and I'm going to have to seek out all your books - because I have to find out what the books are like.
(Nancy Reynolds 9:22am April 9, 2019)
I do believe we would be a good match. I grew up reading mysteries
and suspense. I still enjoy a good, tense suspense to keep me up at
night and keep me wondering how it will turn out. Good character
development is important to me for both major and minor characters.
It makes the story a richer experience.
(Patricia Barraclough 6:13pm April 9, 2019)
I enjoy a good mystery book. Thanks for the contest.
(Anna Speed 1:46am April 10, 2019)
I have to read this i love mysteries
(Danielle McDonald 1:35pm April 10, 2019)
I love crime/mystery/detective books, def sounds like a good
fit to me! Thanks for the chance to win, too!
(Angie Lilly 1:52pm April 10, 2019)
Definitely a match. It sounds like my kind of book!
(Ellie Wright 1:55pm April 10, 2019)
I would love to read this, it sounds exciting! It is awesome
that you are a retired police captain!!!
(Sally Scully 2:06pm April 10, 2019)
I love a good mystery
(Denise Schenk 2:17pm April 10, 2019)
A good mystery is the best.
(Shelly Garnett 2:18pm April 10, 2019)
I would have no problem with having massive Mexican food cravings!
(John Smith 2:40pm April 10, 2019)
We are a match.
(Cynthia St. Germain 4:49pm April 10, 2019)
Not such a good match. But do like when the story is based
on actual way police do business.
(Jaye Smith 4:49pm April 10, 2019)
I may be a match? I love thrillers with lots of twists and
elaborate plots. I know this is a very hard job because it's
not just about inspiration, but a lot of research too. I
took literature and creative writing classes at college and
remember feeling very intimidated but also had a lot of fun!
I didn't become a writer myself but my job involves reading
cases for a living. My all-time favorite detective /
thriller / action TV shows and movies are CSI, Law and
Order, and Mission Impossible. Thanks for the chance and
best wishes on your next releases!!
(Nelly Grilla 2:48am April 11, 2019)
Thrillers are one of my favorite genres. I love finding new authors and falling in love with their books. I am a binge reader.
(Margaret Yelton 3:38am April 11, 2019)
Oh yes, PLEASE, I want books that do NOT have vampires and
the likes in it. LOL. Bring on the crime shows!
(Susan P 1:31pm April 11, 2019)
Sounds like we are a match to me! Thanks for the chance!
(Jaime Minter 7:33pm April 11, 2019)
Sounds interesting!
(Jessica Nathan 11:39pm April 11, 2019)
Am a definite match for your books!
(G. Bisbjerg 11:44pm April 11, 2019)
I would love the chance to read your book! I love to read from new authors!
(Monica Valencia 10:45am April 12, 2019)
Yikes. Not sure about a match... but the book is certainly
a match for me!
(Vanessa Primer 2:13am April 17, 2019)
Registered users may leave comments.
Log in or register now!