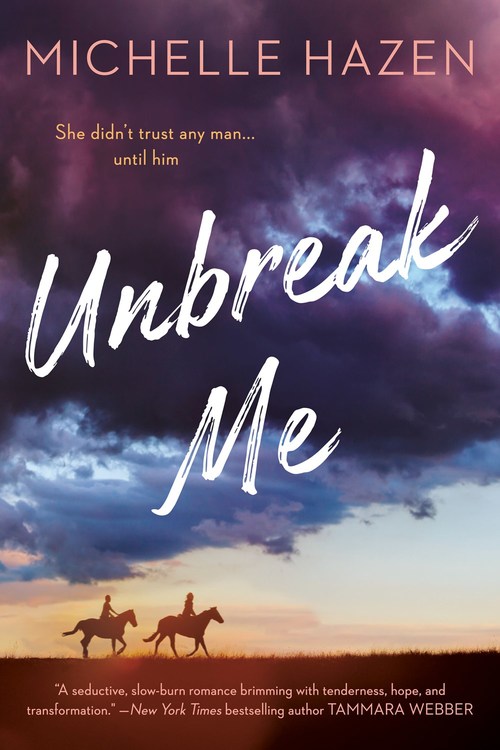 Purchase
Berkley
August 2019
On Sale: August 13, 2019
304 pages
ISBN: 1984803298
EAN: 9781984803290
Kindle: B07KNS7883
Trade Size / e-Book
Add to Wish List

Romance Contemporary | Multicultural Romance
What could two troubled souls from different walks of life have in common? Maybe everything.
Andra Lawler lives isolated at her family's horse ranch, imprisoned by the memories of an assault in college. When she needs help training her foals, she hires a Haitian-Creole cowboy from New Orleans with a laugh as big as the Montana sky.
LJ Delisle can't stand the idea that Andra might be lonely—or eating frozen TV dinners. He bakes his way into her kitchen with a lemon velvet cake, and offers her cooking lessons that set them on the road to romance. But even their love can't escape the shadow of what they've been through. Despite their growing friendship and his gentle rapport with the horses, LJ is still an outsider facing small-town suspicions.
Before they can work through their issues, LJ is called home by a family emergency. In the centuries-old, raggedly rebuilt streets of New Orleans, he must confront memories of Hurricane Katrina and familiar discrimination. And Andra must decide if she's brave enough to leave the shelter of the ranch for an uncertain future with LJ.
Comments
22 comments posted.
Re: Unbreak Me

Oh my goodness! This is going to be a good read. Thanks.
(Kathleen Bylsma 10:11pm July 23, 2019)
really sounds like such a good book
(Vickie Couturier 7:18am August 19, 2019)
This Article is Awesome. It's helped me a lot. Sir, Please
keep up your good work. We always with you and Waiting for
your new interesting articles. tellthebell
(Natasha Wilson 1:42pm August 19, 2019)
You get an A+ for the 5 ways to win a lady who has been turned off of men. I would enjoy reading this book.
(Anna Speed 2:57pm August 19, 2019)
Holy Cow! I love this! Heading to the top of my TBR list!
Thanks!
(Kathleen Bylsma 4:36pm August 19, 2019)
This sounds like such a wonderful read. This is going on my TBR pile right now.
(Cynthia St. Germain 6:46pm August 19, 2019)
I need this book in life...I love them cowboys.
(Robin Davis 7:54pm August 19, 2019)
Editable November 2019 Calendar Printable
(Payal Rajput 2:27am August 20, 2019)
Thanks for sharing this information
(Radhika Sharma 2:36am August 20, 2019)
Great Sharing
(Lokesh Sharma 2:46am August 20, 2019)
Thanks for the post. Looks like a great read.
(Candice Gigous 6:08am August 20, 2019)
A man who cooks, gets along with animals and plays a musical instrument. Be still my heart.
(Pam Howell 7:00am August 20, 2019)
Sounds great!
(Melanie Rosen 4:26pm August 20, 2019)
LJ is a special man indeed. He knows the way to show the woman he is interested in just what kind of a man he is. So often romance is considered in terms of the physical. That does not show you what type of person he is and what is n his heart.
(Patricia Barraclough 10:47pm August 20, 2019)
Love the cover. It got my attention. Very interested in
reading this book.
(Robin Davis 12:52pm August 21, 2019)
than God for Cowboys.
(Pat Wilson 1:25pm August 22, 2019)
thanks for the chance to win....
(Martin Bodnar 8:05pm August 22, 2019)
You had me at "Hatian-Creole" cowboy! Love me some diverse
reads!
(Valcin Lucas 8:28pm August 22, 2019)
I just finished reading this! What an interesting story.
Touches on so many different things but doesn't make light
of any of them. Thanks!
(Sandy Haber 10:52pm August 22, 2019)
I think I might have a crush on your LJ! I
love a man that can play a Sax, I used to
play myself! And he loves animals and his
mama... Oh la la!
(Cindi Knowles 1:55am August 23, 2019)
This sounds like a wonderful love story. And I agree, I love a man who cooks. Thanks for the chance to win.
(Mary Songer 8:07pm August 23, 2019)
Unbreak me, I have to have this book. I love to read about
horses and cowboys...
(Robin Davis 8:19pm August 26, 2019)
Registered users may leave comments.
Log in or register now!