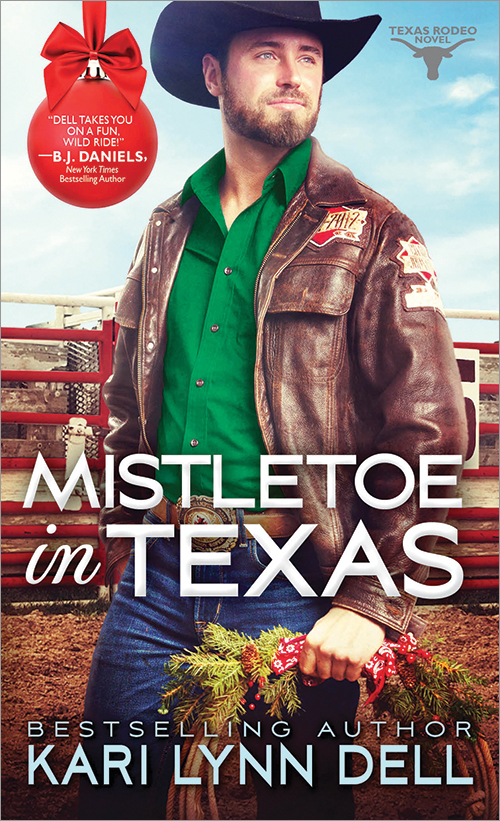 Purchase
Sourcebooks
October 2018
On Sale: September 25, 2018
Featuring: Grace McKenna; Hank Brookman
480 pages
ISBN: 1492658146
EAN: 9781492658146
Mass Market Paperback
Add to Wish List

"Dell takes you on a fun, wild ride!" ―B.J. DANIELS, New York Times Bestselling Author
He's always been the black sheep: the troublemaker. But this Christmas, the prodigal cowboy returns.
Rodeo bullfighter Hank Brookman was headed straight for the top. But after a single misstep resulted in devastating injury, he disappeared under a mountain of regrets. Now he's back, ready to face the loved ones he left behind-starting with the one girl his heart could never forget.
When Hank stormed out of Texas, he left Grace McKenna picking up the pieces...and struggling with a secret that changed everything. He may be back looking for redemption, but after everything they've been through, how can she admit what he really walked away from all those years ago?
Hank always knew persuading Grace to trust him again would be a tall order. Convincing her they deserve a happily ever after? That may take a Texas-sized Christmas miracle.
Texas Rodeo Series: Reckless in Texas (Book 1) Tangled in Texas (Book 2) Tougher in Texas (Book 3) Fearless in Texas (Book 4) Mistletoe in Texas (Book 5)
What People Are Saying about the Texas Rodeo series: "Look out, world! There's a new cowboy in town." ―CAROLYN BROWN, New York Times Bestselling Author "An extraordinarily gifted writer."―KAREN TEMPLETON, author of Wed in the West series "Real Ranches. Real Rodeo. Real Romance."―LAURA DRAKE, author of Sweet on a Cowboy series "A sexy, engaging romance set in the captivating world of rodeo."―Kirkus "Illuminating...a standout in western romance."―Publishers Weekly
Comments
31 comments posted.
I need to complete my collection of this series!
(Janeen Phillips 2:15pm September 25, 2018)
Your book sounds great!!
(Jean Benedict 2:45pm September 25, 2018)
The book sounds great!
(Susan Clickner 3:20pm September 25, 2018)
Looks cool! Thanks for holding the contest!
(Jessica Nathan 9:20pm September 25, 2018)
Strong women can be intimidating. When they find the man who isn't intimidated,
understands and appreciates them, they are both in for a promising future.
(Patricia Barraclough 12:43pm September 26, 2018)
Love the cover!
(Lori Raines 12:31pm September 26, 2018)
I love books that have cowboys in them and this sounds so
good. I would love to read a print copy and review on a few
sites. Thank you for giving all of us a chance!
(Peggy Clayton 1:09pm September 26, 2018)
Looks like a good premise for a book. I've never been to a
rodeo and am interesting in reading more about that
setting. Thanks.
(Mary Songer 3:05pm September 26, 2018)
i just love your books
(Denise Schenk 3:06pm September 26, 2018)
Looking forward to reading this series.
(Janet Evans 3:10pm September 26, 2018)
Sounds like a great book. Loved the column.
(Nancy Reynolds 6:57pm September 26, 2018)
I like second chance books, especially when there is a cowboy involved. Thanks for giving us a chance to win a copy.
(Anna Speed 9:46pm September 26, 2018)
love the cover
(Emily Stemp 10:27pm September 26, 2018)
Flawed characters make stories more real because nobody's
perfect, there's always something a little off. It gives
the characters a chance to redeem themselves. Plus in
your story the second chance romance has a way of working
out, because the couple keep running into each other and
not on purpose, kindof like natural selection.
(Alyson Widen 6:28am September 27, 2018)
Great cover! Love the story, can't wait to read it!
(Tina Bartunek 12:57pm September 27, 2018)
I enjoy books with cowboys and Texas and people who are not perfect.
(Melinda Marks 11:04pm September 27, 2018)
this sounds like a book id really enjoy reading
(Vickie Couturier 6:30am September 28, 2018)
Love cowboy romances, keep them coming.
(Linda May 2:43pm September 28, 2018)
This sounds like the kind of book I love to read.
(Joy Isley 5:09pm September 28, 2018)
I new a barrel racer which is riding around barrel real
fast on a pony, so cowboy stories are endearing to me.
(Alyson Widen 1:19am September 29, 2018)
I love the title!
(Rina Horenian 4:23am September 30, 2018)
I think many of us make mistakes and we can identify with them. The book sounds amazing.
(Debra Guyette 7:43am September 30, 2018)
Think I need to read this series. I like cowboy stories
and altho I didn't get to meet the Rodeo champion himself
(deceased) -- Jim Shoulders, 16 world championships, I did
get to know his wife. Since then, rodeo stories have
become especially favorites to read.
(Donna Durnell 1:13pm September 30, 2018)
Enjoyed the post & yes we do all deserve to be loved.
(Jana B 1:45pm September 30, 2018)
I love this series!
(Kim Atchue-Cusella 4:22pm September 30, 2018)
Making note of this book...
(Colleen Conklin 6:09pm September 30, 2018)
I love the cover. Can't wait to read it
(Brenda Witt 7:37pm September 30, 2018)
You are right. Everyone does love an underdog. I liked my characters with
flaws because they are relatable. We all are full of different qualities and
characteristics which make us unique much like our fingerprints including
our ever present flaws. Thanks!
(Jessica Chappell 9:52pm September 30, 2018)
This looks like an interesting story.
(Sharon Mitchell 9:56pm September 30, 2018)
Thanks for finally caving and giving your characters flaws so the rest of us won't feel so low. Your books sound great and fun to read.
(Debra Wolsleben 10:21pm September 30, 2018)
I would love to read this book. Flawed characters are like people really are. Nobody has not made mistakes. We are only human.
(Cynthia Cook 11:38pm September 30, 2018)
Registered users may leave comments.
Log in or register now!