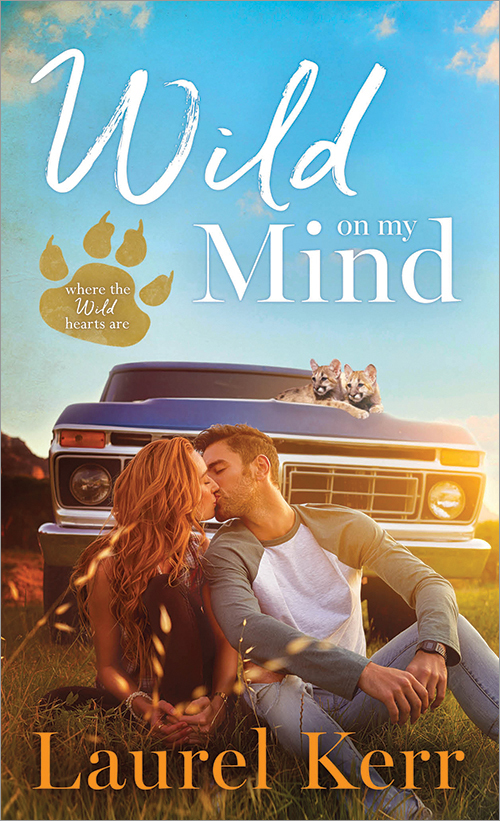 Purchase
Where the Wild Hearts Are
Sourcebooks Casablanca
October 2018
On Sale: September 25, 2018
Featuring: Bowie Wilson; Katie Underwood
416 pages
ISBN: 1492670855
EAN: 9781492670858
Kindle: B07DD1YLW3
Mass Market Paperback / e-Book
Add to Wish List

Love runs wild at the Sagebrush Flats Zoo,
where a motley crew of big-hearted animals
helps the most unlikely couples find love.
When Katie Underwood discovers a litter of newborn cougar cubs, the last person she expects to come to the rescue is her former crush—and high school nemesis—Bowie Wilson. The worst part? He doesn't seem to remember the trouble he caused her.
As a single father and owner of a cash-strapped zoo, Bowie struggles to balance budgets while raising his pre-teen daughter and a host of rascally animals. He considers himself lucky when Katie agrees to lend her talents to a publicity campaign in support of the zoo's animal rehabilitation programs—until he learns just what she's planning...
This time, Katie is determined to resist Bowie's charm. But a lovelorn camel, a matchmaking honey badger, and a nursemaid capybara have different plans. Can they and the rest of the zoo's menagerie help Bowie break through the barriers surrounding Katie's heart?
Love can't be tamed...
Where the Wild Hearts Are
Comments
16 comments posted.
Re: Wild On My Mind

Second chance romance gets me every time. I root for the
underdog and somehow they get it together and shape up.
Looks like a fun read and I do love animals only not close
up unless they're pets.
(Alyson Widen 12:24pm October 2, 2018)
Wonderful premise. I love the idea of a friendly zoo as a
backdrop for a romance. Maybe you could expand the idea and
use the zoo again with more characters? I could get hooked
on a series like that.
(Mary Songer 3:18am October 3, 2018)
Since the master of these principles will certainly show
great results. Nellie Mayshak, the president and the Canaf
Consulting Associates, confirms that there are some of
the great steps to overcome in order to guarantee any
kind of reform mission.
(Beauvais Ginnynw 5:01am October 3, 2018)
Love second chance romances & this book looks amazing,
Thanks for your generosity.
(Linda May 2:12pm October 3, 2018)
Baby animals and a second chance romance - what's not to
love!
(Catherine Wolverton 3:22pm October 3, 2018)
Sounds like a great story. Second chance romance with someone who was basically a bully to you in high school.
(Melanie Rosen 6:55pm October 3, 2018)
Well run zoos are a joy to visit and good education for the whole family. They are
becoming more important every day. Loss of habitat, poaching, interbreeding are
all threats to many species. Good breeding programs and management of zoo
populations may be the last hope of many species.
(Patricia Barraclough 10:11pm October 3, 2018)
There is something about a second chance romance that appeals to me. I especially like the idea of the zoo animals helping to bring the couple together. I have wonderful memories of my dad taking me to the zoo and the many years later going with my grandchildren.
(Anna Speed 12:50pm October 4, 2018)
can't wait
(Denise Schenk 6:17pm October 4, 2018)
sounds like just my kind of book,,i love reading just
before going to bed
(Vickie Couturier 7:53pm October 4, 2018)
I'll take a chance for a second chance romance 💘
(Kim Salmi 7:05pm October 5, 2018)
Animals and second chance romance! Perfect. Thanks for the
background info. Your grandparents sound wonderful!
(Kathleen Bylsma 9:07pm October 5, 2018)
I didn't take road trips but I loved spending time in Elkhart Lake, WI every summer.
My husband and I love to visit national parks. We've been to all the ones you mentioned. So far my favorites are Zion, Grand Canyon North Rim , Olympic and Glacier.
We have a free zoo, Henry Vilas Zoo, in Madison,WI . I go every summer with my 3 grandchildren.

I enjoy second chance romance. I'm always rooting for them to finally get it right. Sounds like he has a lot of responsibilities raising his daughter on his own. Everyone grows up.

I have son and D-I-L who work as environmental scientists for the national park service. They live in Moab,Utah. I also have another D-I-L her dream is to work at a zoo. She currently lives in Portland,OR. as a certified vet tech.
(Laurie Gommermann 10:13am October 6, 2018)
thanks of chance
(Susan Gannon 11:13am October 6, 2018)
Everyone deserves a second chance. I love these type of
books.
(Debra Guyette 2:38pm October 6, 2018)
I always tend to root for the underdog.
Marilyn
(Marilyn Collins 6:49pm October 6, 2018)
Registered users may leave comments.
Log in or register now!