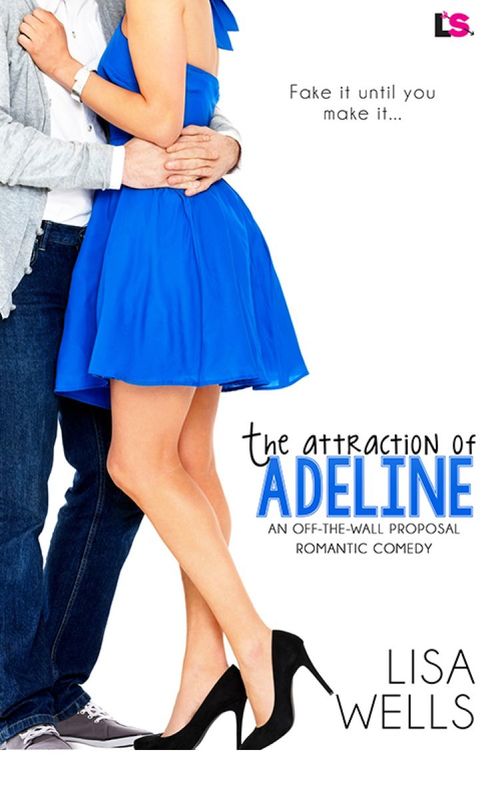 Purchase
The Attraction of Adeline
Lisa Wells
Off-the-Wall-Proposal
Entangled Lovestruck
April 2017
On Sale: April 10, 2017
240 pages
ISBN: 1544692366
EAN: 9781544692364
Kindle: B06XRCYH71
e-Book
Add to Wish List

The Proposal: Adeline Rigby will live with Accountant Jack Foster and pretend to be his fake fiancée for one month in order for him to seal a promotion to partner. In return, Accountant Jack Foster will intimately tutor Adeline Rigby in French before she leaves for Paris where she will fulfill her dream of attending Le Cordon Bleu.
The Terms:
1. Maintain distance. Three get-to-know-you dates before announcing their engagement will be tempting enough.
2. No kissing. Okay, fine. Three kisses. Maybe four. And neck kisses don't count.
3. No touchy feely stuff. Or at least not too many public displays of touchy-feely stuff.
4. No sex.
5. All right, all right. One night of sex in order to be a believable engaged couple.
6. Two nights of mind-blowing sex to make sure first night wasn't a fluke.
7. Absolutely, positively, no falling in love.
Off-the-Wall-Proposal
Comments
17 comments posted.
To be honest, I have no idea... I have a hard time placing actors into roles.... I like to use the author's words to create the image of the character in my head!
(Colleen Conklin 6:51pm April 14, 2017)
Johnny Depp should be the first choice. He has the range.
(Kathleen Bylsma 7:23pm April 14, 2017)
Patrick Dempsey.So cute.
(Judy Gregory 9:02pm April 14, 2017)
Eddie Redmayne is my choice for Jack. He is handsome yet a bit on the nerdy/smart side and he could definitely pass as a tutor/fake fiance to Adeline.
(Susan Coster 11:07pm April 14, 2017)
The only one that stuck in my head was Johnny Depp, but maybe someone new would fit better.
(Annetta Sweetko 9:37am April 15, 2017)
I vote for Chris Pratt. He could totally pull off the hunky and cute and smart and funny AND nerdy.
(Cheryl Castings 11:16am April 15, 2017)
Nathan Filion. Great.
(Sharon Berger 2:08pm April 15, 2017)
Chris Pratt would totally work. But Nathan Filion would be a good second choice too.
(Pam Howell 7:48am April 16, 2017)
How about Jesse Metcalf - I enjoy the Hallmark movies he's
been in.
(Diane Sallans 6:21pm April 16, 2017)
Alec Baldwin - He could make it believable AND funny.
(Elaine Seymour 7:14pm April 16, 2017)
I have no idea
(Jane Squires 3:07am April 17, 2017)
Love to read your book.
(Mary Tharp 1:41pm April 17, 2017)
Jared Padalecki
(Shelly Hart 2:22pm April 17, 2017)
Johnny Depp would be perfect for the part. He can be sexy, smart, funny, and nerdy all at the same time. He has played so many memorable characters.
(Bonnie H 10:25am April 18, 2017)
Sorry, but I don't have any idea who will be perfect.
(Anna Speed 5:55am April 19, 2017)
Haven't read the books so not a clue yet. But it has to be the right actor or it
will ruin the book
(Laura Gullickson 10:19pm April 19, 2017)
I think maybe James Franco as he has the emotional range for it and
he's also very nice to look at.
(Savannah Monfette 9:32pm May 3, 2017)
Registered users may leave comments.
Log in or register now!