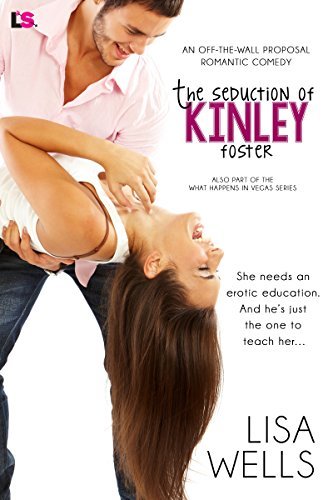 Purchase
The Seduction of Kinley Foster
Lisa Wells
She needs an erotic education. And he's just the one to teach her...
What Happens In Vegas
Entangled Lovestruck
May 2016
On Sale: May 9, 2016
Featuring: Kinley Foster; Ian Thompson
293 pages
ISBN: 1682811875
EAN: 9781633754157
Kindle: B01EFJQC0I
e-Book
Add to Wish List

Romance Contemporary | Romance Erotica Sensual
Librarian Kinley Foster wants to write erotic romance—the steamy, sexy, curl-your-toes kind of stuff. The problem? She desperately needs a little erotic inspiration. And at a romance convention in Vegas, she finds it...or rather him. The sizzlingly sexy guy who refused Kinley—and her virginity—when she was sixteen.
Now it's time for a little payback.
Literary agent Ian Thompson is a professional. Mentoring an aspiring author is one thing. Giving her a thorough and thoroughly satisfying sexy education is quite another. Especially when she's as stunning and deliciously curvaceous as Kinley. Yet Ian can't help himself when Kinley makes him a wager he can't resist. A wager that will tempt Ian to cross every professional—and every sensual—boundary in the book...
Off-the-Wall-Proposal
Comments
28 comments posted.
Re: The Seduction of Kinley Foster

This book sounds fun and saucy. I remember going to a
Nursing Conference and our table was falling off chairs
laughing so hard. One of the ladies was explaining how she
had parties with special toys and other items for enhanced
pleasure.
(Alyson Widen 2:29pm May 10, 2016)
My guilty pleasure is new shoes and purses! The key for me is that they must be on sale or clearance--that's the fun of it--the thrill of the hunt for the best bargain I can find!
(Susan Coster 5:14pm May 10, 2016)
I l o 've TH I s trope, aside from the fact I learn a few
lyric k s myself ;)
Guilty pleasure? Moe books! :)
(Kathleen Bylsma 6:15pm May 10, 2016)
Stupid auto correct! "Love", "tricks", "more" Geezzz! :(
(Kathleen Bylsma 6:17pm May 10, 2016)
Among my guilty pleasures: eating fast food and binge
reading.
(Edward Washington 10:08pm May 10, 2016)
My guilty please is books...the more books I have the better! I love Amazon prime!!!
(Bonnie Capuano 10:26am May 11, 2016)
My guilty pleasure - I have SO many - books - lots and lots of books - a close second would be junk/fast foods!
(Felicia Ciaudelli 10:54am May 11, 2016)
My guilty pleasure is books and snagging great bargains.
(Sharon Berger 12:45pm May 11, 2016)
mine is being "chained" to the tv for my soap opera every day but I will stay chained until the end of it
(Jeri Dickinson 5:59pm May 11, 2016)
My guilty pleasures include How To Get Away With Murder,
and graphic novels.
(Deb Philippon 6:18pm May 11, 2016)
My guilty pleasures are chocolate & books.
(Kv H 8:29am May 12, 2016)
My guilty pleasure: reading naughty books!
(Heather Neal 1:31pm May 12, 2016)
Sounds like a fun read !
(Laura Lovejoy Brunk 7:28pm May 12, 2016)
My guilty pleasure is .....a bag of cheetos. I know...that IS bad.
(Janene Grace 10:38am May 13, 2016)
One of my guilty pleasures is ice cream!
(Cheryl Castings 3:05pm May 13, 2016)
interesting. chocolate is my guilty pleasure
(Angela Parrish 3:45pm May 13, 2016)
reading books
(Ann Unger 4:17pm May 13, 2016)
It would be buying more books.or eating some of my hiden m & m's.
Haven't done that for a while.
(Nancy Luebke 5:18pm May 13, 2016)
Eating butter pecan ice cream is my guilty pleasure.
(Gloria Rutkowski 8:49pm May 13, 2016)
One of my guilty pleasures is watching the Family Feud
ALOT.
(Carrie Edmunds 1:25am May 14, 2016)
My guilty pleasures wound be buying something for me that I don't need , like clothes , shoes , purses and jewelry . I love to shop .
(Joan Thrasher 9:50am May 14, 2016)
potato chips!
(G. Bisbjerg 4:28pm May 14, 2016)
Laughing when someone walks into a glass wall or misses the
chair while trying to sit . Shameful.
(Kathleen Bylsma 4:55pm May 14, 2016)
watching the show Outlander or re-reading one of the books.
(Sandy Mangarella 5:16pm May 14, 2016)
I have managed to abandon guilt over my enjoyments. Guilt over not having
got things done? A whole different matter!

BT, I don't understand Coronaritas. Are you supposed to attempt to preserve
the beer till the rita's mostly done, or lift up the bottle and boldly combine
the two?
(Mary Ann Dimand 10:39am May 15, 2016)
I like home improvement TV shows, chocolate candy and ice cream. Too relax I like to read a good book with a cup of coffee.
(Deb Pelletier 9:56pm May 15, 2016)
I suppose mine is watching cartoons lol, and chocolate of course
(Natosha Hector 11:17pm May 15, 2016)
Sleeping the day away
(Laura Gullickson 11:57pm May 15, 2016)
Registered users may leave comments.
Log in or register now!