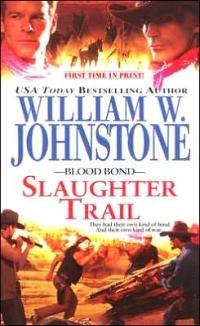 Purchase
In a hostile land, a fast gun and a true friend are the only way to stay alive. Now, two young men whose bond is stronger than blood are discovering how dangerous it is to go it alone?when you?re riding a...
Pinnacle
June 2006
262 pages
ISBN: 0786017627
Paperback
Add to Wish List

Matt Bodine and Sam Two Wolves became blood brothers years ago in Wyoming Territory. So close that they can almost read each other's mind, they've both got minds of their own. But when Matt Bodine, making time with Wyat Earp's woman in Tombstone, feels an inexplicable chill in his bones, he knows his brother is calling out to him. A hundred miles away, Sam is in more than trouble—he's in chains at the hands of a murderous human slaver. Suddenly, Sam's life is hanging by a thread—along with the lives of dozens of innocent men. And rescue-riding Matt Bodine will find how much fire is in his gun—and how much courage is in his blood...
Comments
No comments posted.

Registered users may leave comments.
Log in or register now!