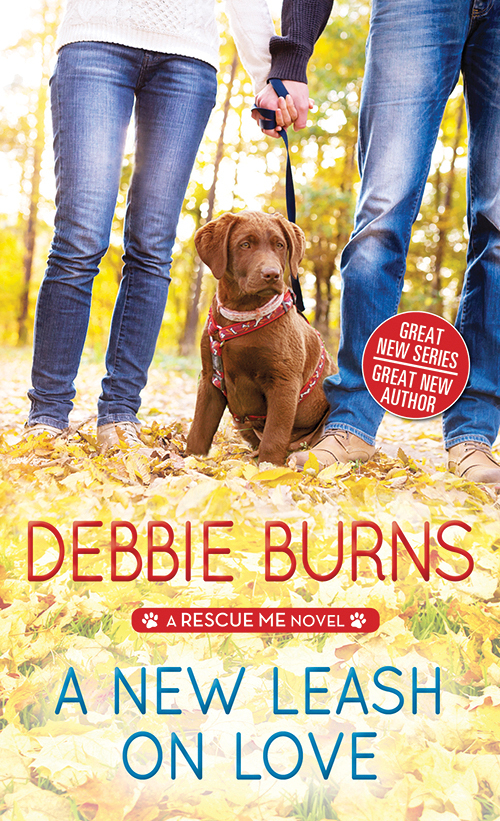 Purchase
Rescue Me
Sourcebooks Casablanca
July 2017
On Sale: July 4, 2017
Featuring: Megan Anderson; Craig Williams
ISBN: 1492650838
EAN: 9781492650836
Kindle: B01N39EXGJ
Mass Market Paperback / e-Book
Add to Wish List

First in a fresh contemporary romance series from award-winning debut author Debbie Burns.
Every heart has a forever home.
Megan Anderson loves the animals at her no-kill shelter. She'll do anything for them―even go toe-to-toe with a handsome man who's in way over his head. She'll help him sort out his troubles, but getting too close to an adorable puppy's human counterpart? Been there, done that, got burned.
When Craig Williams arrived at the local shelter for help, he didn't expect a fiery young woman to blaze into his life. But the more time they spend together, the more he realizes it's not just animals Megan is adept at saving―she could be the one to rescue his heart.
Soon, Craig and Megan find that the magic of unconditional love can do anything...even lead to their forever home.
Rescue Me
Comments
14 comments posted.
I love dogs, I have two of our three dogs next yo me on the bed right now.
Our oldest was rescued when someone left him and his litter mates in the
car during a hot Texas summer and that summer broke a lot of record
highs.
(Leanna Hiner 4:27pm July 12, 2017)
I am a rescuer... my family has adopted a nice variety of pets through the years... dogs, cats, lizards, birds, rodents, etc... I have even saved a few... a dove with a broken wing and an injured baby lizard...
(Colleen Conklin 6:49pm July 12, 2017)
My daughter has a rescue dog. Taz fit right into the family. I take care of their dogs when they are gone.
(Leona Olson 2:44pm July 13, 2017)
I am a dog lover. I have a Jack Russel Terrier named Sadie
who has become my world! She goes everywhere with me and
has so much energy. There is never a dull moment at my
house with Sadie!
(Becky Kinard 3:02pm July 13, 2017)
Every animal I've owned is/was r rescue-including the gecko.
Cows, horses, cats and all my wonderful dogs!
(Kathleen Bylsma 5:57pm July 13, 2017)
I don't do rescue but I love animals. I currently have 2 dogs. One is a Terrier mix who just had her 19yr birthday. She is currently slowing down with her age. We also had her sister who just recently crossed the Rainbow Bridge. I think "Regella" misses her as much as we do. She is very depressed right now though we try to show her a lot of attention. She just wants to sleep. It's so sad. Our other dog is Tobias (Toby) who is a 8yr. old Chihuahua mix. He developed diabetes 1 1/2 yrs. ago. He is doing well now but has to get Insulin 2x/day. They are both very special to me and definitely are part of our family.
(Phyllis (Ginger) Heruska 6:02pm July 13, 2017)
All of our family pets have been rescue animals. Right now
we have Alex the fluffy grey cat and Ricky the sparky rat
terrier.
(Nancy Krueger 6:18pm July 14, 2017)
No, I haven't rescued any animals, but hope to be able to
someday.
(Tanja Dancy 10:38pm July 14, 2017)
I do rescue them. My cats are rescue and I knew someone
else would want a kitten and rescued the kitten for them.
(Debra Guyette 5:41am July 15, 2017)
Yes we have nothing but rescue dogs.
(Ron Frampton 2:14pm July 16, 2017)
I love books like this, we have a rescure dog he'll be 3 years old next month he's the best
Penney
(Penney Wilfort 8:41pm July 16, 2017)
I have one rescue pup (and one other).
(Nicole Davis 9:14pm July 16, 2017)
We plan to get a rescue pup someday! Sounds like an
awesome book!
(Maria Proctor 11:36am July 17, 2017)
Someone threw an adorable white dog away and she has become our neighborhood pet. At least five of us tend to her. One neighbor took her to the vet and had her spade. Another baths her and another neighbor and I provide food and water. She spends a good portion of the day visiting me. One elderly gentleman walks down the street each day and she follows him. She has been given at least two names and the little dog answers to both. Other than the five of us, this little dog stays away from other people. I think she knows we love her.
(Anna Speed 12:26pm July 17, 2017)
Registered users may leave comments.
Log in or register now!