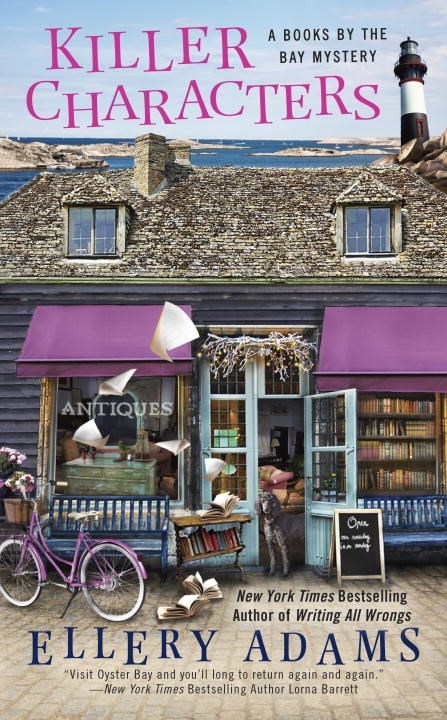 Purchase
Books by the Bay #8
Berkley Prime Crime
May 2017
On Sale: May 2, 2017
304 pages
ISBN: 045148844X
EAN: 9780451488442
Kindle: B01K1ATZHM
Mass Market Paperback / e-Book
Add to Wish List

From the New York Times bestselling author of Writing All Wrongs, it's a rotten state of affairs in Oyster Bay, and the Bayside Book Writers are out to end a nasty plot...
Restaurant owner and aspiring novelist Olivia Limoges is happily enjoying her new marriage. Sadly, the same doesn't hold true for Laurel, a fellow Bayside Book Writer. While struggling with a demanding job, twin boys, and a terminally ill mother-in-law, Laurel learns that her perfect marriage is mostly fictional. When she catches her husband fooling around with his mother's hospice nurse, she issues impassioned threats that will later come back to haunt her.
After the nurse meets a deadly denouement, Chief Rawlings is forced to take Laurel into custody. While Olivia protests the arrest, the rest of the Bayside Book Writers become a group divided, with Rawlings and Harris on one side and Olivia and Millay on the other. Now the women must race against the clock to prove that Laurel's not the sort for murder before her story ends in tragedy…
Books By The Bay
Comments
17 comments posted.
I love your book covers! They are so beautiful and
interesting! Thanks for the chance!
(Tanja Dancy 5:10am May 22, 2017)
This book sounds intriguing and captivating.
(Sharon Berger 11:55am May 22, 2017)
The Bayside Book Writer's Group caught my eye. Appreciate the giveaway.
(Leona Olson 6:55pm May 22, 2017)
All of your Series are so fun to read. We have the first
five of this series already! I would love to win the
newest one!
(LaCinda Jameson 12:52pm May 23, 2017)
Congrats on the new release! It sounds like a fascinating book. Love the cover too.
(Bonnie H 11:40am May 23, 2017)
I don't think I have ever come across a story with main
characters as part of the book writers group. Sounds like
fun.
(G. Bisbjerg 1:23pm May 23, 2017)
I always enjoy reading stories with twins in them.I like to see how authors
write about us twins and if they get it right.
(Jackie Wisherd 11:40pm May 23, 2017)
These books are some of the few books that I actually enjoy
reading. Amazing job with the book covers they are just so
detailed and beautiful
(Paola Duran 2:17am May 24, 2017)
I love a cozy mystery!
(Linda Knowles 2:20pm May 24, 2017)
I so enjoy a good mystery.
(Nancy Luebke 6:31pm May 24, 2017)
Cozy mysteries are such fun. Having grown up in a small
town near the Jersey Shore, I can practically recognize
these characters.
(Irene Menge 7:39pm May 25, 2017)
I am so excited to see a new book come out! Look forward to reading it!
(Debi Little 11:49am May 26, 2017)
Can't wait to read
(Patricia Wagner 12:54pm May 26, 2017)
Your book sounds like a great read!
(Jean Benedict 3:09pm May 26, 2017)
I enjoy reading a good mystery. This is just the right type for me to read while curled up in my bed.
(Anna Speed 6:52am May 27, 2017)
It is interesting to read how many different jobs the author has done in her life. It has to add to her writing when she has actually done some of the jobs she describes. And most of us can relate to one or more of the experiences.
(Mary Songer 5:13pm May 27, 2017)
Love this series but I'm a bit behind. Would love to win the latest - Killer Characters.
(Karen Barnett 11:50pm May 27, 2017)
Registered users may leave comments.
Log in or register now!