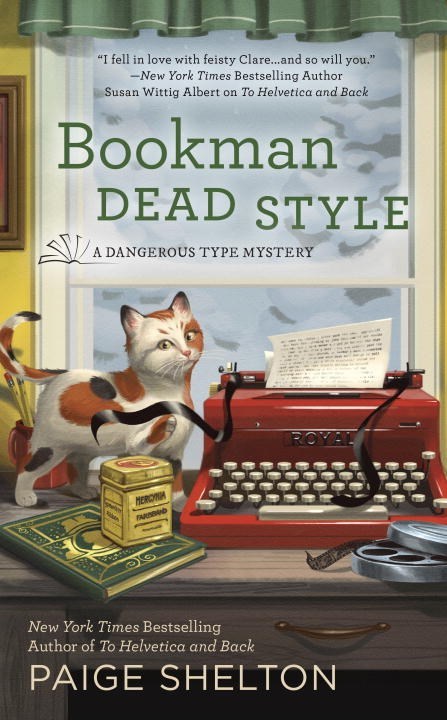 Purchase
Dangerous Type
Berkley Prime Crime
February 2017
On Sale: February 7, 2017
304 pages
ISBN: 0425277267
EAN: 9780425277263
Kindle: B01E4WAFNG
Mass Market Paperback / e-Book
Add to Wish List

A movie star is typecast as a killer in the second Dangerous Type Mystery from the New York Times bestselling author of To Helvetica and Back.
It's January, and the Star City Film Festival has taken the Utah ski resort town by storm. Movie stars are everywhere, carving fresh powder on the slopes and crossing the thresholds of Bygone Alley's charming boutique shops—including The Rescued Word, where Clare Henry and her grandfather restore old typewriters and beloved books. When cinema's hottest superhero, Matt Bane, enters their store to buy some personalized notecards, it's hard not to be starstruck.
But when Clare sees the police leading Matt out of The Fountain hotel in handcuffs only a few hours later, she can't believe her eyes. The affable actor is accused of killing his sister, but Clare's convinced he's wrong for that role. Now it's open call for suspects as Clare tries to reel in the killer before another victim fades to black...
Dangerous Type
Comments
12 comments posted.
I love a good mystery and romance.
(Debby Creager 5:23pm February 26, 2017)
I took a keyboarding class in the tenth grade that I loved.
I loved learning how to type.
(Tanja Dancy 6:59pm February 26, 2017)
I had a typewriter just like that when I was younger and
learning to type. What a unique and ideal cover.
(Sharon Berger 7:08pm February 26, 2017)
I took a typing class during the summer before going into
sixth grade and my Dad bought me a typewriter with a really
neat snap on lid. Loved it!
(Teresa Ward 7:15pm February 26, 2017)
Old typewriters are wonderful. Your book sounds great.
(Nancy Reynolds 2:05pm February 27, 2017)
Maybe I'm weird, but I miss typing class and typewriters
themselves. Typewritten pages have a certain beauty and
simplicity.
(Deidre Durance 2:59pm February 27, 2017)
What an intriguing book! I remember when typing was a required class at school. Knowing how to type is an important skill, even today.
(Bonnie H 8:14pm February 27, 2017)
I remember typing up an assignment on a typewriter after drawing and labeling the parts of the flower on a sheet of paper.....maneuvering the paper on that typewriter still stands out in my mind... not to mention I can still remember that assignment after all these years!
(Gloria Shaw 10:35pm February 27, 2017)
Reading a good cozy is my favorite way to relax. This posting brought back memories of the heavy old typewriter we had at home when I was growing up---and not an electric one either.
(Sue Farrell 3:20pm February 28, 2017)
I took typing in high school on a typewriter just like that oh and the mistakes and you had to start over
(Jeri Dickinson 7:02pm February 28, 2017)
I HATED manual typewriters. LOVED the electric ones, but
when I started college, they were so big and bulky, it
wasn't even funny. Had to get a boyfriend to lug it up the
stairs to my dorm room. Was so happy when word processors
came out!!
(Marcia Berbeza 8:26pm February 28, 2017)
I remember finally getting an electric typewriter when I
went off to college -- sure made all those term papers a
whole lot easier to write.
(Sandy Haber 8:52pm February 28, 2017)
Registered users may leave comments.
Log in or register now!