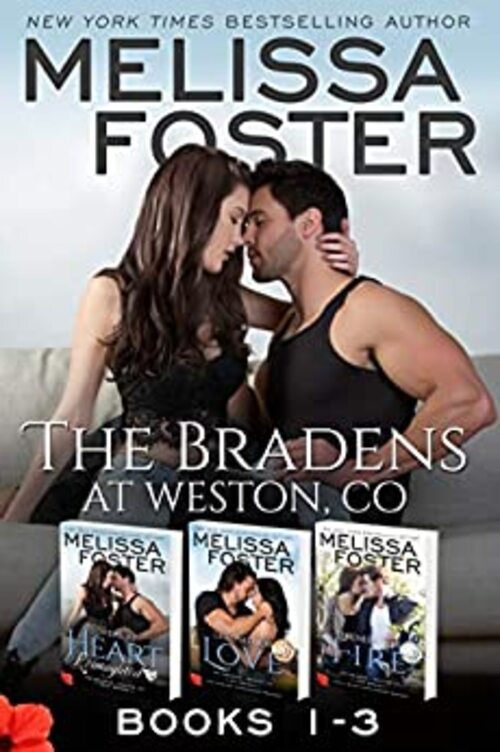 Purchase
The Bradens (Books 1-3 Boxed Set)
Melissa Foster
AWARD-WINNING CONTEMPORARY ROMANCE NOVELS in 1 GREAT BOXED SET
Love in Bloom: The Bradens
World Literary Press
October 2015
On Sale: October 10, 2015
Featuring: Josh Braden; Treat Braden; Rex Braden
772 pages
ISBN:
Kindle: B016H5X922
e-Book
Add to Wish List

AWARD-WINNING CONTEMPORARY ROMANCE NOVELS in 1 GREAT BOXED SET LOVERS AT HEART (The Bradens, #1) DESTINED FOR LOVE (The Bradens, #2) FRIENDSHIP ON FIRE (The Bradens, #3) Sneak Peek: SEA OF LOVE (The Bradens, #4) --- LOVERS AT HEART SILVER MEDAL WINNER, Readers' Favorite Awards, Contemporary Romance Handsome, wealthy resort owner Treat Braden is used to getting what he wants. When Max Armstrong walked into his life six months earlier, he saw right through the efficient and capable façade she wore like a shield, to the sweet, sensual woman who lay beneath. She sparked an unfamiliar desire in him for more than a one-night stand, leaving his heart reeling and his blood boiling. But one mistake caused her to turn away, and now, after six months of longing for the one woman he cannot have, he's going home to try to forget her all together. Max Armstrong has a successful career, a comfortable lifestyle, and she's never needed a man to help her find her way--until Treat Braden caught her attention at a wedding in Nassau, causing a surge of emotions too reminiscent of the painful past she'd spent years trying to forget. Max will do anything to avoid reliving that pain--including forgoing her toe-curling, heart-pounding desire for Treat. When a chance encounter turns into a night of intense passion, Treat realizes that the mistake he made six months earlier may cause him to lose Max completely. He will do everything within his power to win her heart forever--and Max is forced to face her hurtful past head on for the man she cannot help but love. --- DESTINED FOR LOVE BRONZE MEDAL WINNER, Readers' Favorite Awards, Romance Sizzle Love hot cowboys? Rex Braden is wealthy, hard working, and fiercely loyal. Sweat at his brow, he works the family ranch by day, then kicks back at night with part time lovers who require nothing more than his physical presence a few times each week. But that was before. Before Jade Johnson, the daughter of the man his father has been feuding with for over forty years, moves back into town. After ditching a horrific relationship--and her veterinary practice in the process--Jade Johnson returns to the safety of her small hometown and finally finds her footing. That is...until her horse is injured and Rex Braden comes to her rescue. The last thing she needs is a bull-headed, too-handsome-for-his-own-good Braden complicating her life. Despite the angry family history, sparks fly between Rex and Jade, and attitudes follow. Fifteen years of stifled, forbidden love stirs a surge of passion too strong for either to deny--and the rebel in each of them rears its powerful head. Loyalties are tested, and relationships are strained. Rex and Jade are about to find out if true love really can conquer all. --- FRIENDSHIP ON FIRE SILVER MEDAL WINNER, Readers' Favorite Awards, Romance Sizzle Small-town overachiever Riley Banks has finally scored her big break--working in Manhattan as a fashion design assistant for her childhood crush, Josh Braden. She enters her new job hoping to make a name for herself and- -just maybe--explore the romance that slipped through her fingers way back when. Josh Braden has models at his beck and call, a staff that never says never, and an elegant clothing line for the holiday season. When he hires Riley Banks, he expects her to learn the business from the ground up. But the girl next door turns out to be much more than he remembered. Josh and Riley's friendship heats up. Every steamy kiss and every erotic caress stirs a love they cannot deny. But when Riley designs a wedding gown that would cause even the most jaded fashion editors to swoon, Riley's mentor accuses her of stealing the designs. Facing indisputable proof and the mistrust of her lover, Riley is not sure she can take the heat of life in the fast lane of the fashion industry--and Josh is forced to choose between the woman he loves and the career he adores.
Comments
No comments posted.

Registered users may leave comments.
Log in or register now!