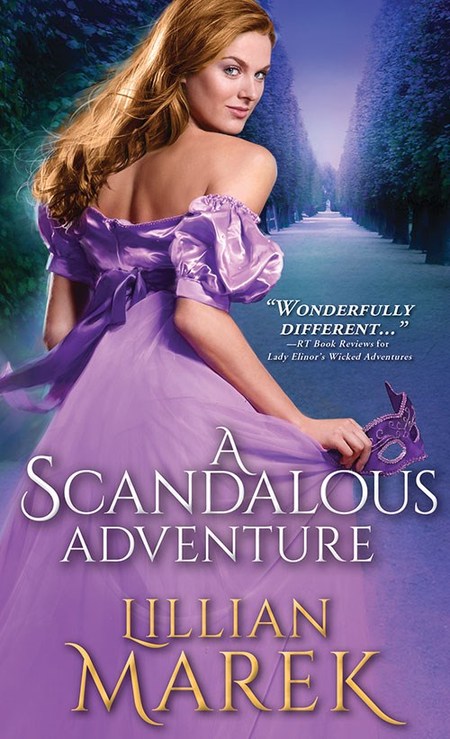 Purchase
Victorian Adventures #3
Sourcebooks Casablanca
August 2016
On Sale: August 1, 2016
Featuring: Count Maximillian von Staufer; Lady Susannah Tremaine
352 pages
ISBN: 149260223X
EAN: 9781492602231
Kindle: B01GST2X2O
Paperback / e-Book
Add to Wish List

When Lady Susannah Tremaine visits a central European spa with her friend Lady Olivia deVaux, they are suddenly seized by Count Maximillian von Staufer, a dashing young royal officer who mistakes Olivia for his monarch's missing bride.
Although Max realizes his mistake, he cannot shake the striking resemblance between Olivia and the missing princess. In an effort to forestall an impending crisis, Olivia is convinced to impersonate her royal highness and Max enlists Susannah's help, intrigued by the idea of spending more time with her. Time is running out, but the more Max and Susannah are together, the more they want to stay together. Will finding the princess mean the end for them, or a new beginning?
Victorian Adventures
Comments
27 comments posted.
My favorite adventure is to be transported to another place,
realm and time. Wonderful post. Sounds ideal. Yes, Saturdays
were magical.
(Sharon Berger 4:05pm August 2, 2016)
I love to drive to get lost and then find my way home. To see new places.
(Gwenn Ostman 5:35pm August 2, 2016)
I am not the adventurous type,so reading about someone else's
adventure is my cup of tea.
Marilyn
(Marilyn Collins 6:57pm August 2, 2016)
At the zoo with my grandson!
(Teresa Ward 7:45pm August 2, 2016)
Between the pages of books going along all types of adventures with the characters inside!
(Colleen Conklin 8:07pm August 2, 2016)
Noe, I like reading my adventures. When I was growing up it was going to the boardwalk on Saturday night because we stayed until we could go to midnight mass. I enjoyed watching all the different people and their interactions.
(Melinda Marks 8:50pm August 2, 2016)
Our honeymoon in Hawaii!
(Sharlene Wegner 1:30pm August 3, 2016)
We did spend 18 days in Alaska... I recommend everyone go at least once... it was amazing!! My Saturday adventures are pretty much at the local farmers market these days! LOL!
(Cate Sparks 3:33pm August 3, 2016)
I love traveling. It is my favorite adventure.
(Phyllis Lamken 4:14pm August 3, 2016)
After the laundry and dished and my walk (all before 9am) I
usually read all I can especially if it's hot an muggy.
(Sue Ames 4:26pm August 3, 2016)
I love to go horseback riding.
(Angela Daffern 4:44pm August 3, 2016)
My fave adventure is finding a new author to read about. It's
such a high to find a new author, read a book of theirs for a
first time, and get hooked!
(Ela Raymundo 4:56pm August 3, 2016)
My favorite reading adventures are the urban fantasies I read.
I like my adventures to be in books!
(Janie McGaugh 10:11pm August 3, 2016)
I love taking a long drive in the country. If I see an interesting shop or sight, I can stop.
(Donna Graham 7:13am August 4, 2016)
My favorite now on Saturdays is when I take a grandson or granddaughter shopping and out to eat . I love my time with them .
(Joan Thrasher 11:01am August 4, 2016)
Sound good,will read.
(Marsha Baurns 3:57pm August 4, 2016)
My favorite adventures include hiking or reading a great book on the beach!
(Lily Shah 4:44pm August 4, 2016)
You can tell we are women of a certain age. I didn't have the luxury of going
to the movies that often, but I remember the features and routine well. My
husband did indeed spend his Saturdays much like you did and enjoyed every
minute of it. He was a popcorn person, however. I love adventure movies. A
good Western, a jungle adventure, or Knights in shining armor all suit me just
fine.
(Patricia Barraclough 12:45pm August 5, 2016)
This year I decided to spread my wings a little bit,
and read books going out of my genre. I'm currently
reading a few horror books, which woudn't exactly fit
into the genre of your question, and I couldn't
honestly say that one of those would fit into my
favorite category, even though a couple of them were
pretty good. I also don't think that the WWII books
regarding the concentration camps that I've read would
be quite regarded as suspense, either!! I am,
however, looking forward to reading your book, and
being able to put it in my favorite category.
Congratulations on your latest book!!
(Peggy Roberson 7:18am August 5, 2016)
going away for a week of just reading!
(Sandy Haber 3:01pm August 5, 2016)
Not ale to do adventures as I once did, so my favorite adventure is to immerse myself in a book. I like historicals which include adventure and cozy mysteries which challenge the characters.
(Annette Naish 12:41pm August 6, 2016)
Life is an adventure! Everyday brings something new & exciting
(Julie Parrish 6:31pm August 6, 2016)
I like to spend my Saturday catching up on sleep, going to lunch with friends, doing a bit of gardening, and catching up on my reading.
(Kai Wong 10:58pm August 6, 2016)
My ideal way to spend a Saturday is to simply curl up and read!!! Love it!!
(Bonnie Capuano 6:41am August 7, 2016)
My favorite thing to do on Saturday is to curl up on my bed and read a good book.
(Anna Speed 4:27pm August 7, 2016)
Enjoying a dolphin cruise in the Gulf of Mexico.
(Doris Losey 7:10pm August 12, 2016)
Sleep in a little bit, then after catching up on the necessary
things, then maybe read a while.
(Nancy Luebke 10:09pm August 12, 2016)
Registered users may leave comments.
Log in or register now!