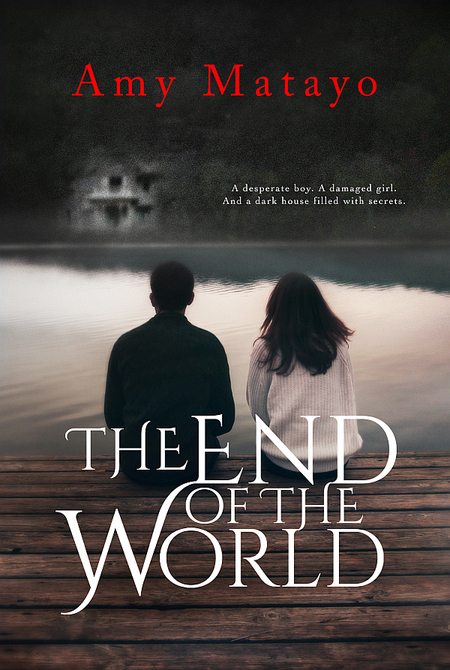 Purchase
The End of the World
Amy Matayo
Author Self-Published
February 2016
On Sale: February 6, 2016
Featuring: Cameron Tate; Shaye McCormick
ISBN: 1523670932
EAN: 9781523670932
Kindle: B019O6C558
Paperback / e-Book
Add to Wish List

Romance Contemporary | New Adult | Inspirational
A desperate boy. A damaged girl. And a dark house filled with secrets.
For Cameron Tate, being shuffled from foster home to foster home is just a normal way of life. Until the year he turns fourteen. That's when he's sent to the home of seventeen-year-old Shaye McCormick—a fellow foster kid counting the days until she's released from the system.
For good reason. It doesn't take long for Cameron to learn that Shaye is shackled to the worst kind of pain...living in a home where nothing seems right. And now he's joined her with no way out. Their only refuge is a lake, a quiet spot at the edge of the property where they can sit together for a few moments at the end of each day. Alone with their thoughts. Away from prying eyes.
At the lake they become friends. At the lake they begin to talk. At the lake Cameron vows that no matter how deep their secrets are buried, he'll make it his mission to heal Shaye from a past that makes living in the present nearly impossible. Even if it takes until the end of time to do it.
Comments
24 comments posted.
I do dream off places but they a l ways take a sinister cast
:(
(Kathleen Bylsma 6:35pm February 19, 2016)
I do sometimes wonder about all the life stories that might have played out in the beach house we rent.
(Pam Howell 6:55am February 20, 2016)
I enjoy dreaming about places that I have traveled to and
about my place of birth since it shaped me for so many years
and was influential and important.
(Sharon Berger 11:44am February 20, 2016)
I often have dreams about places I have never been to until later in times, like the house I dream about that I later found and bought.
(Kai Wong 10:06pm February 20, 2016)
I dreamed of a house on a lake I had never visited. It was a beautiful
summer day and everything was bright and cheerful - until I went inside.
Then it was dark and frightening. I later went to that same lake by some
fluke of the universe. The house exists.
(Susan War 12:50pm February 21, 2016)
When I was young I had dreams of visiting a castle. I would walk around
and explore the entire structure. It was very old and magical. About twenty
years ago I was able to go to Scotland and took a side trip to Edinburgh.
Well there was my castle.
(Pat Freely 1:52pm February 21, 2016)
I always dream of being in a remote his in the mountains with someone I love.
(Debbie Northcutt 8:58pm February 21, 2016)
I always dream of being away on a nice and peaceful beach with a super hot
date!
(Lily Shah 11:29am February 22, 2016)
I dream about the barns and outbuildings on the farm where
I grew up. We spent more time playing in and around them
than in the yard at our house! My sister and I had grand
adventures inventing stories as we played out there!
(Marguerite Guinn 12:06pm February 22, 2016)
I dream about Montana where I spent many summers as a child.
(Donna Graham 2:46pm February 22, 2016)
I dream about going to Munich.Were I was born
(Linda Hall 2:53pm February 22, 2016)
I dream about Hawaii and the wonderful time I had visiting the islands.
(Bonnie H 10:10am February 23, 2016)
I've had several dreams of this same cottage .It's a small white house with a white fence leading up to it on this winding narrow road . It's a beautiful place with big trees and flowers all around it hidden out in the country somewhere . It's so peaceful there . If I ever find this place it will be hard to leave it . I know it's trying to tell me something .
(Joan Thrasher 11:32am February 23, 2016)
i used to dream about going to rome and Athens to see all the ancient sites.
(Angela Parrish 11:38am February 23, 2016)
I often dream about all the places I want to visit. I think
in a way this keeps me sane, by allowing me to realize that
these dreams can happen, whether real or not, and that I
always have a chance to make these dreams become a reality
if I work hard enough.
(Lauren James 1:56pm February 23, 2016)
I dream about places I would love to visit.
(Jean Benedict 3:31pm February 23, 2016)
In the small mining town where my grandmas lived when I
was a child, there was a three story brick schoolhouse
with ivy growing and weaving itself along every surface.
It was once a beautiful school, but had been unused for
years and, therefore, became kind of creepy. When I
read, I will often and when appropriate picture this
school. It was eventually remodeled on the inside and
restored as an elementary school. So this building has
the potential to be many things in my imagination.
(Terrill Rosado 2:26am February 24, 2016)
I was in a foster home and my dream was to have a home of
my own and to have a family. Well it didn't go as
smoothly as I dreamed but after a few rough patches I do
have a home and do have 2 children and 4 step children
but never dreamed I would end up at the age of 48 in
Iowa. My kids are in their 30's and living in Ca and I am
their go to person when they have problems and that is
what I have wanted to be for them.
(Peggy Clayton 12:28pm February 24, 2016)
I feel so sorry for these kids who fall in the cracks. I wish
they could all have wonderful lives. They don't deserve the
abuse that some of them have to endure.
(Colleen Stadnick 5:14pm February 24, 2016)
Geez woman! Your post had me on the verge of tears and now I can't wait
to read this book. I was in similar situations, lived in shelters, etc as kid and
so books with these types of character always call to me.
I've always dreamed of having a home and loving family of my own💗 and
look forward to the day I find my person and he finds me:)
But as far as actual dreams go I have had a few just like yours, about
places that take on their own lives in my imagination and thoughts. One
was about an old fashioned two story house. I've never lived in a two story
house where I had siblings that in waking life don't exist lol!
(Bella Franco 6:00pm February 24, 2016)
When I would go to castles in Scotland and Ireland I would
always dream about what the times were like and how they lived
back in those days usually not light hearted as it seemed as
though it would have been a hard life even for royalty.
(Denise Austin 6:41pm February 24, 2016)
When I dream of places it's usually somewhere I've been to before, but most of the time in my dreams it's with people I don't know
(Kathleen Bledsoe 6:45pm February 24, 2016)
I had a dream about flying in the sky and I end up back home.
(Deb Pelletier 9:51pm February 24, 2016)
I believe every house has a story. It lives in
a different way.. I truly think every emotional
event that happens to you realises a piece of
your soul into the house. And when you see a
house for the first time if the house has only
sadness,or happiness you can see it!
(Bonny Bordeleau 2:06am March 28, 2016)
Registered users may leave comments.
Log in or register now!