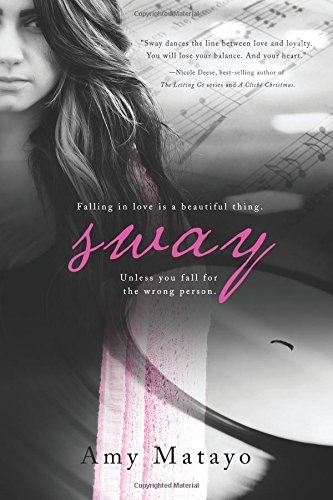 Purchase
Self Published
September 2014
On Sale: September 15, 2014
Featuring: Caleb; Kate Hawkins
234 pages
ISBN: 1502325896
EAN: 9781502325891
Kindle: B00NFTEI1K
e-Book
Add to Wish List

Falling in love is a beautiful thing. Unless you fall for the wrong person.
Finally settled after a tragedy-laden life, 24-year-old Caleb has found security in his faith, his friends, and his career. It's the life he's always wanted-simple, predictable, and safe. Enter Kate Hawkins, the attractive 21-year-old stranger he rescues from a bar fight who has an odd affinity for the color pink and a unique sense of humor.
It doesn't take long to realize their connection is intense, but after only a handful of dates, a shocking revelation surfaces. Lines are drawn, sides are taken, and loyalties are decided as their newfound relationship is brought to a sudden halt.
But unlike most couples who split, avoiding each other is impossible. As daily interactions become unbearable, one realization becomes clear: they've both fallen hard for the absolute wrong person, which leaves both scrambling for a way to make it right.
Comments
23 comments posted.
Re: Sway

Sure I read almost anything.
(Marissa Yip-Young 1:46pm September 25, 2015)
Yes I read it, enjoy reading the books.
(Jean Patton 1:58pm September 25, 2015)
Yes, I read a varied and diverse choice.
(Sharon Berger 3:29pm September 25, 2015)
Yes, but it is my least perfered type. I do enjoy a variety, more
on the clean side.
(Nancy Luebke 6:31pm September 25, 2015)
Lately, I've been reading anything and everything!
(Sheryl Pike 10:39pm September 25, 2015)
Yes, I read New Adult and Yes I would love to read your book. By the way, thank you for sharing your story :)
(Holly Loch 2:09am September 26, 2015)
Amy, I think your book sounds amazing! It's definitely a book that I'm
interested in reading! :)
(Stacy West 2:35am September 26, 2015)
Yes, I enjoy new adult.
(Lisa Garrett 7:54am September 26, 2015)
Yes I read New Adult :) This book looks so GOOD!
(Michele Wiegert 8:29am September 26, 2015)
As far as reading New Adult, I've read a few of them, and have
enjoyed the ones that I've chosen. My choice of genres are a
bit all over the map, as they say, and I select books to suit
my mood, so a New Adult book is in the mix, as well as other
genres. Your latest book sounds interesting, and will make a
good read, since I don't know anyone who doesn't mess up at one
time or another!! Congratulations on your latest book!! I'm
sure it will do well!!
(Peggy Roberson 9:15am September 26, 2015)
I have read some of the New Adult but really I prefer some romance with a good mystery , murder ,edge of your seat book .Your book sounds like it will be an exciting read , maybe it's an 'edge of your seat' book. Thanks for this giveaway.
(Joan Thrasher 9:22am September 26, 2015)
I read all kinds of books. Yours sounds very interesting.
(Mary Hay 9:37am September 26, 2015)
All kinds - I read the blurb to see if it sounds interesting.
(Beth Elder 11:04am September 26, 2015)
Yes I read New Adult, thanks for the chance to win
(Colleen Jensen 2:23pm September 26, 2015)
i read all genres
(Debbi Shaw 8:50pm September 26, 2015)
I love to read anything that has a great storyline and captures my imagination!
(Trish Wakeman 11:06pm September 26, 2015)
I actually did not know what New Adult was before now or that it was even a genre. But, yes, I suppose I do read New Adult. I'm 22 years old, so this genre is perfect for me and what's going through my life right now.
(Heidi Ingalls 7:20pm September 27, 2015)
I have several genres that I read and New Adult is one
along with young adult!
(Peggy Clayton 1:08pm September 28, 2015)
I like reading young adult books and now have aged in to new adult titles.
(Nadine Stacy 2:39pm September 28, 2015)
Yes, I do. If I like the storyline, I will read any genre.
(Linda Levine 4:06pm September 28, 2015)
I never heard of New Adult until now - it is VERY fascinating!
(Felicia Ciaudelli 6:08pm September 28, 2015)
I like New Adult!
(Susan Mahaffey 9:47pm September 28, 2015)
I enjoy reading a variety of books, including New Adult.
(Bonnie H 4:40pm September 29, 2015)
Registered users may leave comments.
Log in or register now!