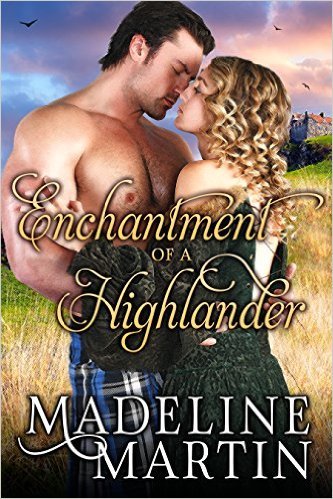 Purchase
Highlands #3
Diversion Books
January 2016
On Sale: January 19, 2016
Featuring: Alec MacLean; Celia
300 pages
ISBN: 162681922X
EAN: 9781626819221
Kindle: B0170UY9OU
e-Book
Add to Wish List

Love is the most potent of remedies.
The sweeping historical romance that began with DECEPTION OF A HIGHLANDER, and continued with POSSESSION OF A HIGHLANDER, reaches its dazzling conclusion in this scorcher set on the Scottish plains.
Alec MacLean returns home after a decade to find his recently deceased father has let his inheritance fall to ruin. As the new laird, it's Alec's responsibility to rebuild the castle and restore the lands. He must also regain the people's trust after having abandoned them so long ago, a feat not easily done when he fears he's plagued with the same darkness as his father.
Celia escaped the North Berwick witch trials at a young age, surviving because of the sacrifice of her beloved caretaker. She's made a life for herself in the wilds of Scotland where no laird rules, a life where she heals for coin, a life without love so she can never feel the hurt of loss again.
When the new laird comes back to claim his land, his determination to restore order threatens everything Celia has worked so hard to gain, especially with the undeniable attraction sizzling between them. Together, they will face all challenges, from the tangle of their own damaged pasts to the fire-fueled witch hunts sweeping the Isle of Mull. Together, they will find that the best way to overcome darkness and war is through the undeniable light of love.
Highlands
Comments
41 comments posted.
Re: Enchantment of a Highlander

Very good description of "Enchantment Of A Highlander." I like books set in Scotland so I think I will be reading it soon. Thanks for bringing it to my attention.
(Sharon Extine 1:18am January 20, 2016)
Thank you so much! :) I hope you enjoy it :)
(Madeline Martin 5:10am January 20, 2016)
Sounds interesting read.
(Marissa Yip-Young 6:38am January 20, 2016)
On my trl list for sure! Sounds awesome! Thank you!
(Angie Shadrick 7:30am January 20, 2016)
Thank you, ladies :D
(Madeline Martin 7:57am January 20, 2016)
I am working hard to become a counselor to help people
through their issues. I begin my classes next Monday, January
25, 2016. And yes, I would love to read your book.
(Edward Washington 11:04am January 20, 2016)
I'm working at staying relevant. I don't want to go quietly.
(Robert Wealleans 11:46am January 20, 2016)
I like the sound of your book... thanks for sharing your post with us!
(Colleen Conklin 11:59am January 20, 2016)
What I really wan to achieve is losing weight for my daughters wedding and it is truly a struggle. I love your cover and anything highlander is right up my alley!!! Can't wait tor read it...
(Bonnie Capuano 12:00pm January 20, 2016)
I'm working hard to get myself in better shape.
(Janie McGaugh 4:08pm January 20, 2016)
I am working hard to help people save their home and also to help other folks to
purchase their first home.
(Diane McMahon 6:06pm January 20, 2016)
Edward, that's wonderful! Congratulations and best of luck to you!!

Robert, you will ALWAYS be relevant
(Madeline Martin 8:40pm January 20, 2016)
I'm working to be a better person and to get organized by getting rid of clutter in my house . That will be a big job for this new year . I would love to read this book . Thanks for this chance to win .
(Joan Thrasher 6:32pm January 21, 2016)
I am working hard to write a novel of my own :) Reading is
a huge inspiration to me...
(H J 9:11pm January 21, 2016)
Decluttering is always a great way to start the year! :) Thank you, Joan!
(Madeline Martin 10:13pm January 21, 2016)
Hylla, I love to help out fellow aspiring authors. Please feel free to reach out to me for any advice or anything :)
(Madeline Martin 10:14pm January 21, 2016)
I AM WORKING hard at reading 125 novels this year amd
with that 1 of them a month a new author. I do read fast
and have the time as i am severely disabled so i can do
some but not alot so the afternoons my pups sit in my lap
and i read for awhile that also helps me get my grounding
before my husband comes home and wants dinner and then
another set of chores to do.
(Peggy Clayton 1:00am January 22, 2016)
I'm working hard toward getting my kids getting a good education and becoming successful in the future.
(Nicole Bouchey 10:52am January 22, 2016)
I am working hard towards finishing school!
(Lily Shah 6:57pm January 22, 2016)
I am determined to get my bachelors. It is on the very long plan. I started at
40 and am 52 and still have a year to go. I have health issues so I may go
a year and then not be able to for 2 yrs. very long plan, lol.
(Vicki Hancock 7:43pm January 22, 2016)
Recently I was told I probably have MS and Tuesday, I'll learn the
outcome of a lot of test. My goal right now is to live each day to
the fullest and to enjoy them. I also read and review as many
books as I can. OK so I'm a book junkie and I just love reading.
Thanks for this opportunity.
(Nancy Luebke 10:40pm January 22, 2016)
I am trying to regain my health and fitness. I also must
contend with people screaming in my head demanding that I
write their story. Once I accomplish the first, I will
begin working toward the second.
(Irene Menge 7:18am January 23, 2016)
I'm trying so hard to keep to this darn diet. Why are all the good foods fattening? Carrots just don't do it for me!!
(Bonnie Capuano 9:12am January 23, 2016)
I've achieved a full life and am retired. I'm working toward a year round vegetable garden (we live in southern Texas) and expanding our flower garden varieties. Of course, our children and grandchildren are growing and they are the people I enjoy showering with love, time and attention! Relationships with our extended family and friends are important too!
(Betsy Pauzauskie 12:52pm January 23, 2016)
I am just trying to get my house in order after remodeling a few rooms...
(Gwenn Ostman 1:02pm January 23, 2016)
Working on remodeling home
(Cathy Garner 11:04pm January 23, 2016)
Working to look good for my daughter wedding. Trying to lose those extra pounds. UGH
(Bonnie Capuano 8:30am January 24, 2016)
I was impressed with the amount of time and work you spent learning to write a book that was ready to be published. Now, if only I could get my mind set on it, I would like to get rid of a lot of junk that has accumulated in my house over many years.
(Anna Speed 1:15pm January 24, 2016)
After I started working, one of my goals was to spend a month's vacation in Colorado within five years. I cut down on anything I could think of to save money. Bye-bye cable tv. I also started eating more legumes instead of meat, simply to save money. During that time I also bought a small house and an economical new car. I saved enough money and vacation that I could actually go. Oh, and I stopped at San Diego on the way to Colorado to visit some family! I had a list of the places in Colorado I wanted to see and I saw them all! That was the best time in my life- I worked hard for it, and enjoyed every stress-free second!
(Joanne Schultz 2:31pm January 24, 2016)
I'm working hard to clear out all the things I inherited from
my parents & grandparents - some need restoration - nothing
very valuable, but very sentimental. There are lots of old
pictures to sort thru and organize.
(Diane Sallans 6:14pm January 24, 2016)
I always am working at making sure my grandchildren read - although it's not as hard as it used to be now that many of them are older and happily read. It's only the little ones that need to be read to until they learn to love reading on their own. I do have a 21 year old grandson who still loves reading with grandma and we have a good day together when he has time, reading books that interest both of us.
(Sharon Mitchell 9:39pm January 27, 2016)
I'm working hard toward not only losing weight for my daughters wedding but to save enough to GO! We live in FL and she's in OK. I want so much to be ale to afford to help out and buy things for her. We are on a fixed income and things are very tight! I can't wait to read this book and have it on my TBR list already!!!!
(Bonnie Capuano 9:39am January 28, 2016)
You are a new author for me. I have been working very hard to lose more weight this year. Last year I lost 40 pounds. I'm hoping I can gain my ideal weight this year.
(Cathy Phillips 1:05pm January 28, 2016)
I am working toward getting healthy again. I need to lose
weight and gain muscle mass. Plus, I need to make some me
time, without feeling guilty. Love historical romances,
especially those that take place in the highlands. The
title and picture caught my eye making me want to enter
this contest. Thank you for the opportunity. After
reading some of the other posts, I sure hope that Bonnie
can make it to her daughters wedding!
(Patrice Eannucci 3:26pm January 28, 2016)
wow looks amazing the book and love historical highlanders
and the sexier the book the better :D
have added to my Kobo WL too
(Rachael Kennedy 4:18pm January 28, 2016)
Who doesn't love a Highlander?
(Marcelle Cole 4:58pm January 28, 2016)
I am working hard at becoming more fit and also
volunteering within my community
(Marcia White 5:36pm January 28, 2016)
I'm trying to exercise every day and follow a diet plan. So far, so good.
(Deb Pelletier 9:37pm January 28, 2016)
I'm working hard toward my bachelor's degree in History. I'll
have my associate's degree by spring of 2017.
(Diana Thomas 10:09pm January 28, 2016)
Working hard for my family :)
(Dianne McVetty 11:06pm January 28, 2016)
I love your books and would love to win...Also love to read books with happy endings....
(Karen Dieffenbaugher 4:52pm January 31, 2016)
Registered users may leave comments.
Log in or register now!