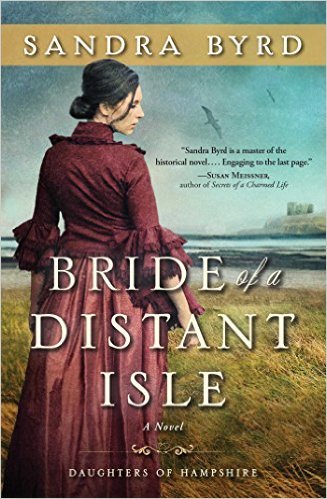 Purchase
Bride of a Distant Isle
Sandra Byrd
Daughters of Hampshire #2
Howard Books
April 2016
On Sale: March 22, 2016
Featuring: Annabel Ashton; Dell'Acqua
384 pages
ISBN: 1476717893
EAN: 9781476717890
Kindle: B010MHAHS0
Paperback / e-Book
Add to Wish List

Romance Historical | Inspirational Romance
An unforgettable romance set in Victorian England, Bride of A Distant Isle is the engrossing story of Annabel Ashton, who fights to save her family home and her mother's honor while trying to figure out if the man she loves wants her—or just wants to use her to achieve his own ambitions.
Miss Annabel Ashton is a teacher at the Rogers School for Young Ladies in Winchester when she takes a brief visit to her family home, Highcliffe Hall at Milford-on-Sea. She believes her stay will be short but soon learns that she will not be returning to the safety of the school. Instead, she remains at Highcliffe, at the mercy of her cousin, Edward Everedge.
Annabel protests, but as the illegitimate daughter of a woman who died in an insane asylum, she has little say. Edward is running out of money and puts the house up for sale to avoid financial ruin. He insists that Annabel marry, promising her to a sinister, frightening man. But as the house gets packed for sale, it begins to reveal disquieting secrets. Jewelry, artifacts, and portraits mysteriously appear, suggesting that Annabel may be the true heir of Highcliffe.
She has only a few months to prove her legitimacy, perhaps with assistance from the handsome but troubled Maltese Captain Dell'Acqua. But does he have Annabel's best interests at heart?
And then, a final, most ominous barrier to both her inheritance and her existence appears: a situation neither she nor anyone else could have expected. Will Annabel regain her life and property—and trust her heart—before it's too late?
Daughters of Hampshire
Comments
27 comments posted.
Defined roles and drama!
(Beth Elder 9:42pm March 25, 2016)
LOVE gothic romances. First I read was Juniper Hill by
Dorothy Daniels. :)
(Miranda Owen 9:45pm March 25, 2016)
I think gothic is a get away from the real world problems.
I like a little of the scary side and then the history of
the story.
(Peggy Clayton 12:59pm March 26, 2016)
Gothic opens up new worlds and gets away from day to day
issues. Love the romances and drama!
(Terri Rinko 1:26pm March 27, 2016)
When I think of gothic I also think of vampires , witches , the walking dead and ghosts, and then that goes on to Halloween . I have dressed up as all of these before on Halloween . That was a lot of fun then . I do see some , mostly female that are gothic during ordinary days and it makes you think that they are wanting to stand out in the crowd and be seen . Maybe they are trying to be in their own little world . That's what makes this planet so interesting . All the " crazy people ". I would love to read this book , I love thrillers and mysteries .
(Joan Thrasher 3:45pm March 27, 2016)
I am very excited to see your Books as give
awAy Sandra Bryd.... oops how rude. Sorry I am
extremely excited.
Hello Ms Bryd, I was thrilled to see your Books
as a give away. Because I have a hard time
spending money on Authors I have yet to read
because, I have had some bad experiences with
that so I no longer will.I so I ad MIT I try to
win a book from a new Author so that I can
experience their writing. If I love your book I
will become a very loyal customer. With money
being tight because of trying to save up for a
wedding that now is on a hold... because of the
major health issues I have. Right now it takes
over most of our money. Hopefully you can
understand the reason for my reluctance to buy
a book I have yet to learn the artist style
before!Thank you
(Bonny Bordeleau 1:51am March 28, 2016)
Gothic romances were my first romance novels which were
captivating and enthralling. The characters and the setting
made the novels come alive and captured the locale and the
emotions. Penmarris by Susan Howatch was a memorable novel.
(Sharon Berger 12:45pm March 28, 2016)
My earliest romance reads were almost all of the gothic type (except for Georgette Heyer of course) and although I really appreciate the lighter type, I am happy to see some of the classic type return.
(Carol Gowett 4:13pm March 28, 2016)
The gothics are just a bit spooky and creepy. I can read
gothic type books, but I stay far away from horror.
(Deb Diem 6:31pm March 28, 2016)
I really love any type of romance and since reading gothic
romance will be new for me, i dont mind reading it
(Liselle StLouis 6:44pm March 28, 2016)
I love the creepy factor combined with the romance. It just
amps everything up.
(Rebecca Diederich 12:54pm March 29, 2016)
I also grew up with Stewart, Du Maurier and Holt. They kept my interest with Suspense, dark locales and mysterious, tormented and/or brooding heroes. Even now a good Gothic holds allure.
(Sharon Mitchell 3:40pm March 29, 2016)
I enjoy a good gothic romance every so often. I have a box of old ones I can
dig into when the mood strikes. Du Maurier's REBECCA is a favorite. I
enjoyed Victoria Holt's books and got Mary Stewart's books, but haven't read
many. There is just something about an innocent, young woman in a
questionable situation, a "hero" that you really aren't too sure about, and kind
of a spooky, sometimes supernatural element. Great reading on a dark and
stormy night.
(Patricia Barraclough 8:43pm March 29, 2016)
Meant to mention that the BRIDE OF A DISTANT ISLE sounds like it will be a good,
dramatic read. Best wishes for a successful release.
(Patricia Barraclough 8:44pm March 29, 2016)
The combination of mystery, suspense, and romance is very appealing in Gothic romance.
(Bonnie H 8:53pm March 29, 2016)
Those deceptively bad boys who hide their good qualities
under a bushel. Ah, isn't it Byronic?
(Richard Brandt 10:19pm March 29, 2016)
As soon as you spoke of "Gothic", I thought of Victoria Holt before I even noticed your mention of her! She has been a favorite author of mine since 9th grade - and I LOVE those Byronic heroes as well!
(Felicia Ciaudelli 2:41pm March 30, 2016)
Gothic is dark and has people dressed in somber colors and
seem to travel with a cloud of doom following them.
(Alyson Widen 5:47pm March 30, 2016)
I love the creepy feeling of it.
(Leslie Davis 8:57pm March 30, 2016)
I think the mysteriousness of "the gothic" is appealing
(Krypton I 8:49pm March 31, 2016)
I do not usually read gothic but I want to read these 2 books. Sound great
(Mary Branham 12:57pm April 1, 2016)
I love the sense of foreboding in gothic stories.
(Angela Daffern 3:27pm April 1, 2016)
Awesome insights and comments; I've loved reading every
one. I hope you read Mist of Midnight or Bride of a
Distant Isle. Thank you!! ~ Sandra
(Sandra Byrd 4:41pm April 1, 2016)
I enjoy the mysterious atmosphere, the romance, the feeling of something horrible is right around the corner, but love will win in the end.
(Anna Speed 12:34pm April 3, 2016)
Thank you for writing these love stories. I would love to win
the books.
(Christine Kilner 1:50pm April 3, 2016)
My wife likes to read these, but they are definitely not on my reading list.
(Don Burkhead 2:50pm April 3, 2016)
gothic and dark makes a good story too
(Debbi Shaw 8:43pm April 3, 2016)
Registered users may leave comments.
Log in or register now!