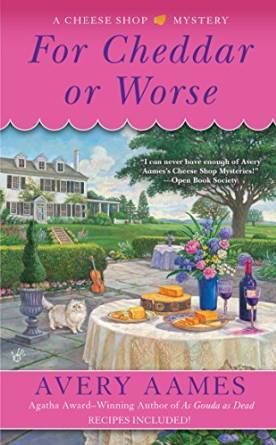 Purchase
A Cheese Shop Mystery #7
Berkley
February 2016
On Sale: February 2, 2016
Featuring: Charlotte Bessette
ISBN: 0425273326
EAN: 9780425273326
Kindle: B00X593CK8
Paperback / e-Book
Add to Wish List

In the new Cheese Shop Mystery from the Agatha Award- winning author of AS GOUDA AS DEAD, an extra-sharp tongued cheese critic is cut down during a summer cheese festival.
It's time for the annual Cheese Festival in Providence, Ohio, and Charlotte Bessette's cheese shop is packed with homemade specialties. Meanwhile, her friend Erin is prepping her dairy farm and inn for cheese makers, marketers, journalists, and one surprise guest—Lara Berry, pretentious cheese whiz, pompous bestselling author, and pungent critic whose extra sharp tongue can crumble a reputation.
Even though any love for Lara by her friends curdled long ago, Charlotte is surprised when the foodie is smothered to death in her room at Erin's inn. Accusations start flying, but the one laying blame on Erin strikes Charlotte as a crock. Now, to clear her friend's name, Charlotte has to sift through Lara's ex-lovers, former business partners, and unforgiving enemies to find a killer before Lara's past casts a tainted pall on the festival's future.
RECIPES INCLUDED
Cheese Shop Mystery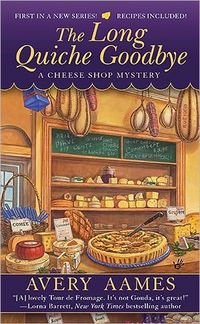 The Long Quiche Goodbye
#1.0
Amazon.com | BN.com | | |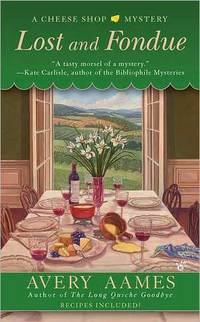 Lost And Fondue
#2.0
Amazon.com | BN.com | | |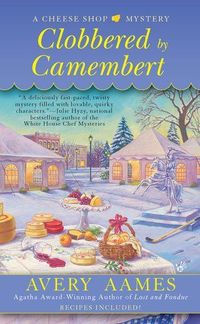 Clobbered By Camembert
#3.0
Amazon.com | BN.com | | |

To Brie or Not to Brie
#4.0
Amazon.com | BN.com | | |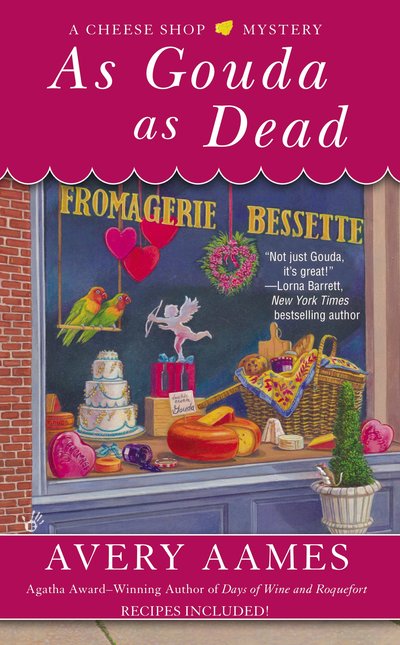 As Gouda as Dead
#6.0
Amazon.com | BN.com | | |
Comments
34 comments posted.
Cozy mysteries are top notch!
(Joanne Hicks 9:59pm February 2, 2016)
I love Dallas. It's warmer than Cleveland and my grandchildren live there.
(Donna Graham 11:34am February 8, 2016)
My favorite American town is a 50's type of beach town which
is so appealing for its natural beauty, setting and nostalgia.
Wildwood, N.J.
(Sharon Berger 11:47am February 8, 2016)
I love to go to the Rio Grande Valley in the winter.
We were Winter Texans for many years. We would stay in Alamo, TX. It was a friendly town. Would love to go back there again.
(Mary Holshouser 1:12pm February 8, 2016)
i love Santa Barber i love it i lived there during good time and bad time the town flooded 2 time as i live there and then
i had my duaghter there and then i work for the stars like burl ives and rock hudson
(Desiree Reilly 1:39pm February 8, 2016)
I went on vacation to a girlfriends house in Baltimore, MD . and she and her husband have a houseboat and took me everywhere you could go by boat . It was so exciting and saw so much history . The most exciting was going to Annapolis and walking in the town and reading all the history that is there .Thanks for this chance to win this beautiful cheese set ,love the little mice .
(Joan Thrasher 2:05pm February 8, 2016)
Last year I visited the town of New Glarus, Wisconsin, for the first time and I fell in
love! It's like a little piece of Switzerland right in the middle of the U.S.A. It may
lack the soaring peaks of the Alps, but the town is full of Swiss chalet-style
architecture. And it's not just a gimmicky façade - the people of New Glarus are
proud of their Swiss heritage, and they welcome you to take part in their culture.
I had some wonderful Swiss cuisine while I was there, accompanied by a live
polka band. It was fun to see the locals, both young and old, get out there on the
dance floor. The town is also home to the New Glarus Brewing Company, one of
the best and most beautiful breweries in the country. It is a real treat to take a
tour and then enjoy a tasty ale in the European-style beer garden. Of course,
Wisconsin is also known for its excellent cheeses, and there are many creameries
and dairy co-ops a short drive from the town. I'll definitely be going back to New
Glarus when I get the chance, so I can experience that Old World charm without
having to leave the Midwest.
(Melissa Routzahn 8:02pm February 8, 2016)
Williamsburg va it is historical and lots of malls to shop
(Jeri Dickinson 8:50pm February 8, 2016)
My favorite American town would have to be Galveston,
Texas. The beaches are beautiful and the weather is
absolutely gorgeous. Plus, the people are super nice :)
(Hylla Jackson 9:22pm February 8, 2016)
Newport, Oregon is my favorite town in the US that I have
visited. It is one the coast walking the beach or hiking a
trail is wonderful nearby, it has great seafood restaurants
and bookstores.
(G. Bisbjerg 12:05pm February 9, 2016)
Telluride Colorado Took my breath away
(Susan Gannon 9:27am February 9, 2016)
Wow, what a wonderful array of towns to put on my list to visit. I love
Telluride, Susan, too! I haven't been New Galrus, WI, Melissa, but it
sounds charming!! G.B., Newport, OR sounds like Crystal Cove, CA where
my Cookbook Nook mysteries are set! Joan, I had the same experience in
Baltimore. Truly enjoyed the experience. Jeri, the same with Williamsburg.
I loved the history (and the 6 Flags, too). Desiree, I must try the Rio
Grande. I would love to visit Taos, too. :) And Hylla, I've heard Galveston
is great! Thanks to all for leaving messages! So wonderful to see you
here. ~ Avery aka Daryl
(Daryl Wood Gerber 11:50am February 9, 2016)
My fav town is Coos Bay, Oregon. I was young when I went
there with my foster parents to visit their friends but
it was so pretty. We went out on a fishing boat that was
an experience as the gas smell is just so bad but I
survived and learned alot. We played on the beach and saw
the sites around the area. It was so soothing and just
amazing it was one of the most beautiful places I had
ever been besides where I grew up in the Bay Area around
San Fran. There were not many people in the area at that
time and their house was right on the coast. Just
beautiful and a wonderful secure memory that many times I
have reminisced about often.
(Peggy Clayton 12:09pm February 9, 2016)
I love Sedona, Arizona. Everywhere you look is just so beautiful, colorful and
peaceful. I spent my honeymoon there, which makes is even more special~
(Celia Fowler 1:07pm February 9, 2016)
I love Minneapolis in the Summer. Minnesota is the land of
10,000 lakes. It's absolutely beautiful. Thank you for this
chance!
(Robyn Konopka 6:08pm February 9, 2016)
Cheyenne Wyoming, i just fell in love
(Malka Essock 6:11pm February 9, 2016)
I really enjoyed our visit to Bar Harbor, Maine this last
year. I would go back there again and spend more time, if I
could. It made me feel so much like I was visiting the
Maine of the books by Elisabeth Ogilvie. I loved it!
(Elaine Klingbeil 9:23pm February 9, 2016)
I love Gatlinburg TN. There is so much to do and to not do
there. For the shoppers you can go crazy, for foodies you
can have it (especially pancake lovers for some reason) and
for those just wanting to get away - a cabin in the woods is
paradise. I am in the last group and loved it every single
time, no matter what season of the year.
(Kay Bennett 10:48pm February 9, 2016)
Hilton Head Island. It is always relaxing and is lovely.
(Pam Howell 7:12am February 10, 2016)
Fort Smith, Arkansas. Because it's visitor center is a restored whore house. Loved the shock look when my mother finally figured out what the house was originally used for. Also will be the home of the US Marshal memorial.
(Angela Parrish 10:00am February 10, 2016)
I love NYC. It is so alive and there are so many different things to do, foods
to eat, and places to see!
(Lily Shah 10:08am February 10, 2016)
My favorite is San Antonio--probably because my hubby and I
took our 1st vacation there.
(Sue Farrell 10:45am February 10, 2016)
I love Spruce Pine NC such a beautiful place.
(Judy Rhodes 4:28pm February 10, 2016)
I enjoy visiting Elkton, Oregon mostly because my eldest
son lives there and it is across country for me, full of
new sights and places.
(Mary Hay 10:24am February 11, 2016)
We would go to Gatlinburg, TN. There is something for every
age! Birth to elderly. There are endless shops and
entertainment. It's the southern Las Vegas without the
gambling. :)
(Candice Sheets 9:35pm February 11, 2016)
Peggy, Coos Bay sounds fabulous. Like Lake Tahoe to me. Very "secure."
Great word to describe it.

Celia, Sedona is absolutely gorgeous. Very serene in its simplicity.

Robyn, I've never been to Minnesota, but I hear the 10,000 lakes are
amazing. I'd like to visit.

Thanks to all for chiming in!

~Avery aka Daryl
(Daryl Wood Gerber 8:42am February 12, 2016)
I have to admit I'm blown away by hearing of so many glorious places.
Elaine, Bar Harbor sounds fun.
Kay and Candice, I've never heard of Gatlinburg, TN, but I've heard of the
Gatlin brothers, does that count? :) It sounds like a hopping place!
Pam, Hilton Head is lovely!
Angela, you made me laugh out loud as to what Fort Smith used to be.
Too funny!

Lily, I have to agree re: NYC. I love going there. I lived there for a year
when I tried to make it on Broadway. Every moment it vibrated with
energy, both good and bad.

Sue, my hubby intended to take me there. He did a lot of college sports
business there. He got me so interested, I read a travelogue about the
area and wrote a screenplay set there. I have yet to go! Soon, though. I
promise.

Judy, Spruce Pine SOUNDS relaxing. I can feel the breeze.

Mary, what fun to have a place to visit yearly AND see your son. Nice.

Hugs and good memories to all!

~Daryl aka Avery
(Daryl Wood Gerber 8:47am February 12, 2016)
I love Cincinnati! It has so many neighborhoods, each with a different small
town feel. The people are friendly and the scenery is beautiful!
(Susan War 12:07pm February 14, 2016)
Asheville NC is a beautiful town in the mountains w lots of fun
entertainment and food.
(Virginia Clayton 1:17pm February 14, 2016)
My family visited Boston a few years ago. We had fun there
because there were so many things to do! I would love to
win your book and other goodies! Thanks for the chance!!
(Linda Herold 11:55pm February 14, 2016)
Hard to pick just one - but we love New Orleans. So many
things to discover every time we visit!
(Cheryl Fields 12:08pm February 15, 2016)
Denver, Colorado and outlying regions of Estes Park and Pike's Peak. Aspen trees are amazing!
(Esther McKinney 8:48pm February 15, 2016)
I love NYC - lots to do, see and eat!
(Mary Lynn Hayes 5:55am February 28, 2016)
One of my favorite towns is Provincetown in Mass. Quirky and original. Very fun and I love the beach.
(Mary Songer 11:19pm February 28, 2016)
Registered users may leave comments.
Log in or register now!