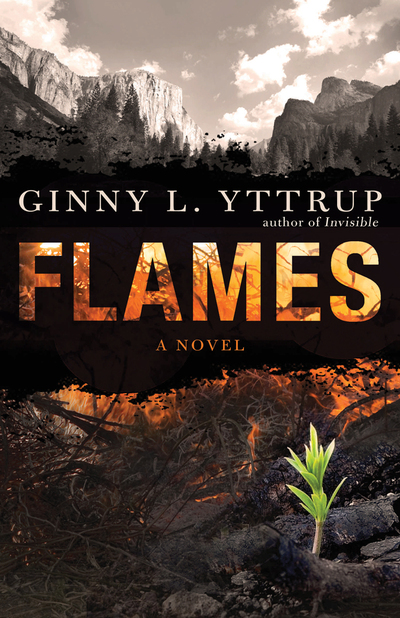 Purchase
Self Published
October 2015
On Sale: September 22, 2015
Featuring: Haley Weaver; Jessica Weaver
352 pages
ISBN: 0996144714
EAN: 9780996144711
Kindle: B014HQ4GMU
Hardcover / e-Book
Add to Wish List

The fourth novel from acclaimed, award-winning author Ginny L. Yttrup. When betrayal's flames explode, can Jessica Weaver preserve what matters most?
I preserve legacies...
So begins the story of Jessica Weaver—wife, mother, and fire archeologist. Preserving Yosemite National Park's natural and cultural resources is Jessica's job. Preserving her family's legacy is her obsession. But when she discovers her husband's infidelity, betrayal's flames threaten her family and all she's fought to protect.
Haley Weaver, a sophomore in high school, is a daddy's girl. As she enters the throes of first love, timid yet intrigued, Haley also discovers her father's affair. Stunned and broken, Haley flees into the wilds of Yosemite National Park. If she can't trust her father, how can she trust her boyfriend—or even love itself?
When wildfire breaks out and Haley is missing, Jessica fears the worst. In a race against time, she searches for her daughter as she deals with the magnitude of what her husband's affair may cost her family. How can she go on if she doesn't find Haley in time?
And what will Jessica do to preserve the legacy that matters most?
Women's Fiction, Contemporary, Romance
Comments
23 comments posted.
Re: Flames

Reading books
(Marissa Yip-Young 6:05am September 25, 2015)
For me, that's a loaded question. Part of it is knowing that I
have a voice, and have used it when it was most beneficial to
my survival. It's also learning to grow stronger when you know
you've been betrayed by the people you thought you loved and
learned to trust. You learn to throw them to the wayside,
after crushing them under your heel, and going on with your
life, forgetting that they existed, after what they did to you.
That is the only way you can not only grow, but move on with
your life. Your heart has to learn to harden to a degree, and
will soften when the time is right. In time, you even might
forgive people for what they did. I haven't gotten to that
point yet, but am working on it. Instead I am helping others
to fill that space. I also use a lot of humor, otherwise I
might crumble, and have shed enough tears over the years. Your
latest book sounds like a page-turner, and will probably strike
a bit of a chord with me of a different kind. I'm looking
forward to reading it this upcoming Fall
(Peggy Roberson 7:33am September 25, 2015)
My upbringing which gave me the values and principles which
adhere to as well as the sunshine, blue skies and being
outside.
(Sharon Berger 3:29pm September 25, 2015)
Knowing my family always has my back
(MaryEllen Hanneman 4:38pm September 25, 2015)
The love and support of my family.
(Sheryl Pike 10:42pm September 25, 2015)
Faith, Family, Friends, and Me :D
(Holly Loch 2:23am September 26, 2015)
Family helps me along the way but I couldn't make it
without my God.
(Mary Hay 9:40am September 26, 2015)
I suspect that everyone has a variety of things which allow them to keep going. In the majority of cases, it is probably a combination of family, faith, and personal commitment. It is something I have never really thought much about--they were just a part of me and I always knew that I had that base to my life.
(Carol Gowett 1:57pm September 26, 2015)
My Beliefs
(Colleen Jensen 2:26pm September 26, 2015)
Sometimes it is as simple as peace and quiet. A time to listen to
the one above.
(Nancy Luebke 3:33pm September 26, 2015)
My faith keeps me going each day. It gives me the strength to carry on no matter what life throws at me.
(Nancy Marcho 6:57pm September 26, 2015)
traditions andlove
(Debbi Shaw 8:51pm September 26, 2015)
I would love to read this book
(Kathy Church 12:02pm September 27, 2015)
Family ,friends , and everything helps to fuel my growth . We grow and learn everyday by doing things and being around people are reading a book .I have realized that I have to forgive also . That is the biggest and maybe the hardest I have ever done . But once I did forgive I felt so, so, much better .Some prayers in there helped me also , sometimes we need a little extra help .
(Joan Thrasher 4:09pm September 27, 2015)
The love and support of my family.
(Irene Menge 8:33pm September 27, 2015)
What a loaded question!!! I guess it's the family values and morals taught to me as a child that gives me the strength to face problems. Also, I can rely on my family.
(Anna Speed 12:01pm September 28, 2015)
I had to face alot of bad things when I was a child so now
I think that was what gave me the strength that I have
today. Also friends and church I have no family to speak of
and that has been that way most of my life.
(Peggy Clayton 1:11pm September 28, 2015)
What fuels my growth and strength is the solid morals learned as a child.
(Nadine Stacy 2:34pm September 28, 2015)
My children are my strength, my joy, my future, my reason for being.
Throughout many challenges in life, I've always drawn strength &
motivation for growth. Now I add my grandchildren & future grandchildren!
(Wl Hutch 5:33pm September 28, 2015)
I think the belief my parents & my sister have in me have given me strength
to date. Now I add the expectations of my children, my nieces & nephews,
& their children to help ensure a bright & strong family unit for the cycle of
life. As in your book, we often are driven by the desire to live to ensure the
future of the family.
(K'tee Bee 5:47pm September 28, 2015)
Family and friends - they really keep me going even when I don't feel like it - ESPECIALLY then!
(Felicia Ciaudelli 6:19pm September 28, 2015)
Friends -- my family is dead. . .
(Susan Mahaffey 9:49pm September 28, 2015)
Congratulations on your new release! It sounds like a fascinating book. The love and support of my family gives me strength.
(Bonnie H 4:44pm September 29, 2015)
Registered users may leave comments.
Log in or register now!