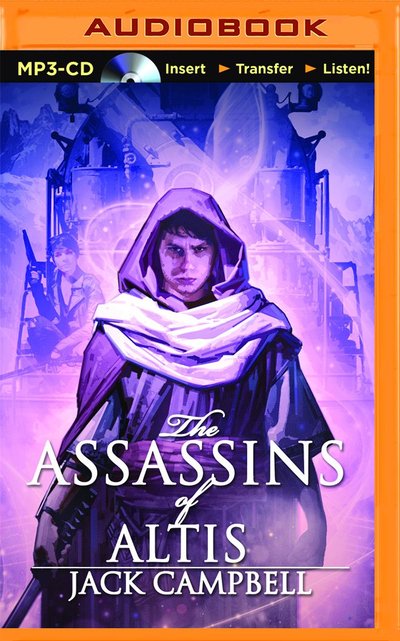 Purchase
Pillars of Reality #3
Brilliance Audio
September 2015
On Sale: August 25, 2015
Featuring: Mari; Alain
ISBN: 1491540249
EAN: 9781491540244
Kindle: B00W491UOA
Audio / e-Book
Add to Wish List

Trapped within the dead city of Marandur, Master Mechanic Mari and Mage Alain must escape both merciless barbarians and the pitiless Imperial Legion. Beyond those dangers lie the mightiest and most unforgiving powers in the world of Dematr: the Great Guilds that rule the world with iron fists.
Mari's Mechanics Guild and Alain's Mage Guild have always been enemies, but they are united in wanting to kill their rogue members before Mari can fulfill the ancient prophecy of being the one who will finally overthrow their power. Mari and Alain must risk those dangers because halfway across their world lies a place where truth has long been hidden. A place that could explain why their world's history begins abruptly, with no hints of what came before. A place where they might learn how the Mechanics Guild came to control all technology and how the Mages manage to alter reality temporarily. A place that might tell them how to achieve a task that appears to be impossible.
Never before have a Mage and a Mechanic worked together, and their combined talents offer their only hope. But she and Alain must first survive the deadly and implacable Assassins of Altis.
Comments
5 comments posted.
One of my favorites in which I believe the characters were kept real is The Great
Gatsby! It's a great classic that I think everyone should read once if they have the
chance to.
(Lily Shah 1:00am August 6, 2015)
There are two books that I loved. One classic is Gone With the Wind. Another book that was written not that long ago was Roses by Leila Meacham. Those are the only two that come to mind, trying to think, quick on my feet. There are so many books that I've read over the years, that it's hard to pigeonhole a particular book to a category. I feel it's also open to the reader's interpretation. What one reader feels is real might not be real to another, so I'll leave my 2 choices there, instead of adding more. Your latest book sounds very interesting, and I'll be looking forward to reading it. Congratulations!! Mark Twain was one of my favorites growing up, and I loved your quotes thrown in and used as a writing technique!!
(Peggy Roberson 9:28am August 6, 2015)
One of the books that kept it real for me goes back to childhood. The Little House on the Prairie books(Series) by Laura Ingalls Wilder had the characters ie. her family reacting in ways that made sense to me and kept it real because everything did not go smoothly.
(Melinda Marks 11:38pm August 6, 2015)
A Separate Peace
(Marissa Yip-Young 5:53am August 7, 2015)
Dark Places. They were all not characters that I liked but it made sense in the context of who they were.
(Pam Howell 12:22pm August 8, 2015)
Registered users may leave comments.
Log in or register now!