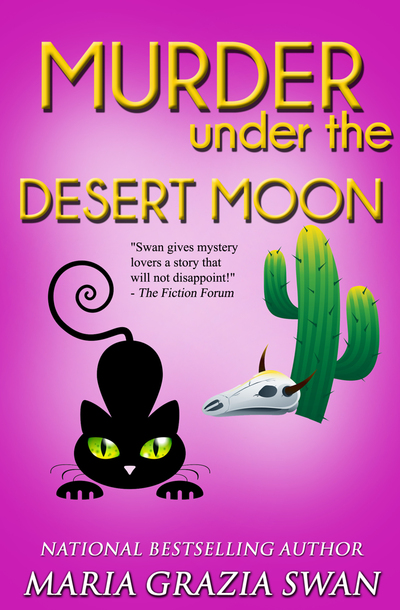 Purchase
Lella York #3
Gemma Halliday Publishing
July 2015
On Sale: June 21, 2015
Featuring: Lella York; Flash; Lawrence Devin
223 pages
ISBN: 1514307952
EAN: 9781514307953
Kindle: B0106PA4CM
e-Book
Add to Wish List

From award winning author Maria Grazia Swan comes a story of suspense, romance, and one mischievous cat...
How does a domestic black cat from Southern California become a stowaway and end up in Phoenix Arizona? That's what Lella York wants to know as she crosses the desert, pedal to the metal, to bring her cat, Flash, back home. But something about a full desert moon bewitches Lella into staying in Arizona longer than she planned and playing house with the sexy Detective Lawrence Devin who is in Arizona as a special witness for an old murder case. The desert is a land of extremes so it's no surprise that Lella and Larry brave the heat to chase after a cold case. Throw in a hint of Russian mafia, some attractive flight attendants, and a ferret named Lucy, and Lella realizes what a dangerous place the desert can be under a full moon.
Lella York
Comments
29 comments posted.
Re: Murder Under the Desert Moon

Tucson AZ
(Chris K 4:53am June 29, 2015)
Phoenix-
(Marissa Yip-Young 6:05am June 29, 2015)
Florida.
(Sharon Berger 9:50am June 29, 2015)
Barcelona, Spain would be nice.
(Kerry Shaw 12:44pm June 29, 2015)
Make it New Orleans that would be fun...love to travel and your life has been so adventurous.
Marilyn [email protected]
(Marilyn Watson 1:17pm June 29, 2015)
hawaii
(Jeri Dickinson 2:39pm June 29, 2015)
I have no idea but I would love to see it set at Yellowstone Natl Park or Montana in the mountains.
(Pat Moore 3:02pm June 29, 2015)
Near Lake Tahoe. :)
(Jane Firebaugh 10:40pm June 29, 2015)
New Orleans, LA
(Connie Williamson 1:31am June 30, 2015)
Traverse City, MI
(Hillary Kaltenbach 7:39am June 30, 2015)
Germany
(Blanche Nixon 8:35am June 30, 2015)
Las Vegas
(Nicole Bouchey 9:25am June 30, 2015)
Anywhere would be great to read, but California's Avenue of the Giants would be intriguing.
(Sharon Mitchell 1:37pm June 30, 2015)
The Mohave desert.
(Janice Santillo 3:05pm June 30, 2015)
I would say, Maria, to keep your settings still in the Arizona you love, but maybe, just maybe, up in the White Mountain area--where the Phoenicians go to cool off. I'm suggesting Heber-Overgaard or Show Low, Arizona.
(Susan Coster 5:07pm June 30, 2015)
How about Virginia
(Jeri Dickinson 5:09pm June 30, 2015)
Mesa, AZ Great book cover!
(Karen Hoover 6:47pm June 30, 2015)
nice cover, cool bracelet
(John Sweeney 7:25pm June 30, 2015)
Bangkok, Thailand, a very interesting place. Of course it's been
almost 40 years since we were there.
(Nancy Luebke 8:56pm June 30, 2015)
One of the awesome places in Arizona.
(Maritza Perez 11:20pm June 30, 2015)
How about the old F. Scott Fitzgerald home in St. Paul,
Minnesota?
"The St. Paul Pioneer Press reports the three-story row
house on Summit Avenue was listed for sale Tuesday. The
listed price is $665,000."

So many places to choose.

Thanks for a great post.
(Leona Olson 8:46am July 1, 2015)
France!!
(Wendy Sebastian 9:17am July 1, 2015)
Hollywood
(Irene Menge 11:42am July 1, 2015)
Arizona I love the desert,
Penney
(Penney Wilfort 12:07pm July 1, 2015)
It sounds really good.
(Dhanisha Balsara 12:40pm July 1, 2015)
Denver, Colorado
(Anna Speed 1:10pm July 1, 2015)
I'll double-guess Rijeka or Ljubllana, Slovenia-- talk about underexploited
locales that are naturals for an Italian!
(Mary Ann Dimand 4:34pm July 1, 2015)
Death under the Parisian Moon. You could explore the fashion
industry. Or Death under the Roman Moon and you could visit the
ruins!
(Marcia Berbeza 8:21pm July 1, 2015)
Paris , Texas.
(Deb Pelletier 9:39pm July 1, 2015)
Registered users may leave comments.
Log in or register now!