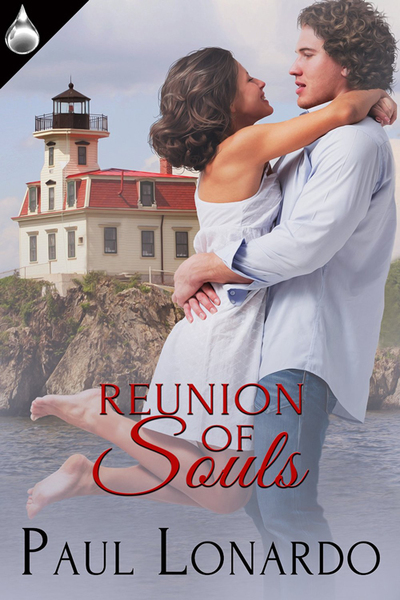 Purchase
Self Published
June 2015
On Sale: June 1, 2015
Featuring: Jodi; Nick
45 pages
ISBN: 162210224X
EAN: 9781622102242
Kindle: B00X39C4J0
e-Book
Add to Wish List

Romance | Romance Contemporary
Jodi and Nick's chance for romance was never realized while they were in high school. Now, five years later, they meet again. Will a class reunion be their first— and last—chance at love? Paul Lonardo pens a sweet, contemporary romance about risking it all for love in REUNION OF SOULS.
Saddened by the recent loss of her mom and disheartened by a stalled career and unfulfilled personal life, Jodi feels that life is passing her by. But then she receives an invitation to her five-year high school reunion.
Nick Ryan was always around in high school, but Jodi never thought of him in a romantic way. Lately though, she's found herself thinking about him more and more, and wondering if she should have paid him more attention in high school. Upon learning that Nick will be attending the reunion, Jodi can't help but think it's a sign.
The night of the reunion, Jodi and Nick meet and sparks fly, but Nick's insecurities threaten to undermine everything before they even have a chance to get started. Can Jodi convince him that they belong together, and that their first chance at love may also be their last?
Content Notes: Sweet, Contemporary
Comments
25 comments posted.
Re: Reunion of Souls

Yes, I do read fiction and non-fiction, among other genres.
It all depends on the story line. Your book sounds like
such a refreshing read for this time of year, and I put it
on my TBR list, for my Summer reading. Congratulations on
what I'm sure is going to be a big hit, since stories like
this are probably "stranger than fiction!!" I love the
cover, too!!
(Peggy Roberson 10:08am June 5, 2015)
I read fiction to escape and enjoy the novels greatly. I read
non-fiction because they inform me, fascinate me and are
always intriguing and captivating. Best wishes and much
happiness and continued success.
(Sharon Berger 11:54am June 5, 2015)
I actually prefer nonfiction, because some of the true
stories are really strange and wonderful, and would be
considered implausible if written as fiction. That said, I
also really enjoy fiction, escpecially speculative fiction.
(Deb Philippon 12:37pm June 5, 2015)
Don't you think that differences across individuals swamp differences across
gender? As long, that is, if one's talking about actual individuals of male and
female genders, rather than talking about stereotypes.
(Mary Ann Dimand 5:10pm June 5, 2015)
Oh, and I definitely read both fiction and non-fiction, and of radically differing
sorts on both sides. But all my reading is for both edification and
entertainment.
(Mary Ann Dimand 5:12pm June 5, 2015)
I read both and enjoy both. Reading has long been my escape
and my salvation throughout my life.
(Penny Beverly 8:18pm June 5, 2015)
I used to read a log of non-fiction. Now, I read primarily
fiction.
(Janie McGaugh 10:47pm June 5, 2015)
I read fiction
(Lorelei Frank 8:39am June 6, 2015)
I read more fiction. Non fiction if it is really something
I'm interested in.
(Marissa Yip-Young 9:41am June 6, 2015)
I pretty much stick to fiction, although I have been known to accidentally read non-fiction, and actually enjoyed it too!
(Joanne Schultz 2:09pm June 6, 2015)
I usually read fiction but if the character or subject
interest me I do also read non-fiction. I just love to read,
my sister teases that I even read cereal boxes
(Karen Kane 2:43pm June 6, 2015)
I read fiction only, do not care for non fiction
(Jeri Dickinson 3:55pm June 6, 2015)
I read both fiction and non fiction.
(Cynthia St. Germain 7:07pm June 6, 2015)
I read both. Thanks.
(Jana B 9:43pm June 6, 2015)
I read both and all kinds of books . They take me to all places . Love Books .
(Joan Thrasher 9:32am June 7, 2015)
I read only fiction, never been a fan of non fiction
(Jeri Dickinson 3:16pm June 7, 2015)
I enjoy fiction and non fiction. As long as the story and plot
holds my interest, I will read both types.
Marilyn Collins
(Marilyn Collins 4:13pm June 7, 2015)
I don't read very much non-fiction. I love mysteries and
romance mostly.
(Denise Austin 12:11pm June 8, 2015)
I've read both, fiction and non-fiction, and I must admit a preference to fiction there. Most of the time I leave a non-fiction account unsatisfied. That's also probably why I tend to stick with reading romance/erotica - the almost guaranteed Happily Ever Afters.

I do like my happy endings.
(Rebecca Diederich 9:57am June 8, 2015)
Usually I read fiction to relax but there are occasions I read non-fiction.
(Anna Speed 12:18pm June 8, 2015)
I am a fiction reader although have read a few non-fiction
if I have a choice it's fiction hands down.
(Peggy Clayton 1:06pm June 8, 2015)
What a great title! It sounds like a wonderful book! I
enjoy reading both fiction & non-fiction.
(Maria Proctor 4:39pm June 8, 2015)
I read both but I really enjoy fiction.
(Cheryl Lynne 4:42pm June 8, 2015)
Both, and the book sounds interesting.
(Deb Pelletier 8:54pm June 8, 2015)
Though I prefer fiction, I do appreciate anything written in
the biographical genre.
(Susan Shapley 10:53pm June 8, 2015)
Registered users may leave comments.
Log in or register now!