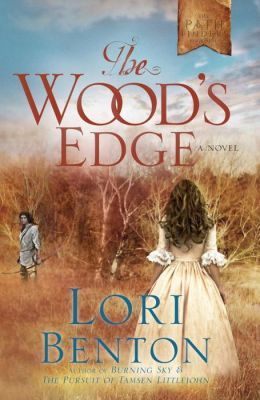 Purchase
WaterBrook Multnomah Publishers
April 2015
On Sale: April 21, 2015
ISBN: 1601427328
EAN: 9781601427328
Kindle: B00N6PFD1C
Paperback / e-Book
Add to Wish List

Inspirational | Historical | Romance Historical
At the wood's edge cultures collide. Can two families survive the impact? The 1757 New York frontier is home to the Oneida tribe and to British colonists, yet their feet rarely walk the same paths.
On the day Fort William Henry falls, Major Reginald Aubrey is beside himself with grief. His son, born that day, has died in the arms of his sleeping wife. When Reginald comes across an Oneida mother with newborn twins, one white, one brown, he makes a choice that will haunt the lives of all involved. He steals the white baby and leaves his own child behind. Reginald's wife and foundling daughter, Anna, never suspect the truth about the boy they call William, but Reginald is wracked by regret that only intensifies with time, as his secret spreads its devastating ripples.
When the long buried truth comes to light, can an unlikely friendship forged at the wood's edge provide a way forward? For a father tormented by fear of judgment, another by lust for vengeance. For a mother still grieving her lost child. For a brother who feels his twin's absence, another unaware of his twin's existence. And for Anna, who loves them both—Two Hawks, the mysterious Oneida boy she meets in secret, and William, her brother. As paths long divided collide, how will God direct the feet of those who follow Him?
Comments
31 comments posted.
Re: The Wood's Edge

The Wood's Edge looks like an interesting read.
(Marissa Yip-Young 5:49am April 24, 2015)
New author for me
(Lorelei Frank 6:57am April 24, 2015)
The thing that inspires my passion is the ministry that I am on staff with in
the fight for marriages & families
(Sharon Timmer 12:28pm April 24, 2015)
Your novel sounds captivating. Great health since chemo was
necessary and this inspires my passion.
(Sharon Berger 12:47pm April 24, 2015)
I love your book's cover! Thanks for sharing...
(Colleen Conklin 12:59pm April 24, 2015)
I don't know of anything that really inspires my passion. though if I had to come up with something I would go with world history. I love to visit places that I've read about in history class
(Angela Parrish 2:26pm April 24, 2015)
My passion inspires in life , love and peace. I love life and every thing around me. I love all the things that has been created for us to all enjoy. Just take the time to look around and see all the amazing things that surrounds us . Thank you for this wonderful giveaway and for giving us all a chance to win. The book sounds like a winner.
(Joan Thrasher 2:32pm April 24, 2015)
My kids and family inspire my passion!
(Rebecca Dewey 2:34pm April 24, 2015)
I'm passionate about whatever the lastest craft I'm involved in! Currently that is beading!
(Joanne Schultz 3:38pm April 24, 2015)
The Wood's Edge sounds like a winner. Thank you for giving us a chance to win a copy.
(Anna Speed 3:44pm April 24, 2015)
I enjoy reading historical fiction, I guess that inspires my passion!
(Kathleen Gardiner 3:51pm April 24, 2015)
I'm a nurse and I am passionate about making a difference in the lives of those I care for.
(Juli Lear 5:05pm April 24, 2015)
My reading
(Ann Unger 6:08pm April 24, 2015)
chocolate cookies
(MaryEllen Hanneman 6:12pm April 24, 2015)
My passion is politics and trying to make the world a better place...
(Diane Pollock 6:28pm April 24, 2015)
My passion is creating whether that is sewing, crocheting, knitting, or making beautiful pages as a layout specialist.
(Bonnijean Marley 9:05pm April 24, 2015)
I am passionate about finding great new authors! Can't wait to
try Lori Bentons books!!
(Mary Tomatz 10:37pm April 24, 2015)
Thank you so much for the chance to win this beautiful
gift. My loved ones, my faith, helping someone out,
listening to some good music, dancing, reading a good book
and life that is what inspires my passion. Best of luck to
everyone who enters
(Holly Loch 11:10pm April 24, 2015)
This book looks very interesting due to the time period.
(Nadine Stacy 4:16am April 25, 2015)
Historic buildings.
(Lesley Walsh 7:27am April 25, 2015)
Not passionate about too much these days
(Gary Bronstein 11:51am April 25, 2015)
Two of my passions are knitting and reading. To take a
piece of yarn, which comes in so many colors and different
textures, and create something wonderful with the click of
my needles, then to send it off to someone I love with my
best wishes, is the best feeling in the world!! To pick up
a book and be transported to a place that I'll probably
never visit in my lifetime, and live through experiences, if
only in my mind, while I flip the pages, is something I look
forward to. The other thing I look forward to is getting
your book in my hands. I love reading books from the past.
The era that you chose couldn't be more expressive - not
only in dress, but in what that period represents. There
was so much activity, and it was such an important period in
itself. You couldn't have chosen a more important time to
write about!! I've put it on my TBR list. Congratulations
on what is sure to be a big hit!!
(Peggy Roberson 11:58am April 25, 2015)
Sounds like a heart rending tear jerker! TBR list!
(Kantu Malhotra 2:11pm April 25, 2015)
My passion is inspired by my family and my love of God. I love to do for others and that is what inspires me. My passion for reading is inspired by the great quality of Christian fiction authors and books that are available now. There are so many more christian fiction choices available now than in the past.
(Sheri Pruitt 6:40pm April 25, 2015)
My passion is inspired by God first & whatever He places in my heart, my family & friends secondly! The Woods Edge sounds like a great book, I've seen it around for a bit and it is on my to-read pile! Thank you for the chance to win a copy!
(Trixi Oberembt 8:43pm April 25, 2015)
What inspires my passions - my family, reading, crocheting, cooking and baking, my heritage. This book puts me in mind of the White Indian Series by Donald Clayton Porter. It starts with an indian chief on a raid and taking the only living thing left at the homestead - a white baby boy. Excellent series and I'm really looking forward to reading this book, sort of a mirror image book.
(Debra Wolsleben 9:34pm April 25, 2015)
Genealogy is my passion; it is also history. I want to leave
our children with some knowledge of their ancestors.
(Leona Olson 8:10pm April 26, 2015)
THE WOOD'S EDGE looks like a super read.
(Christine Schultz 8:34pm April 26, 2015)
I love the cover and would love to read this book.
(Denise Austin 10:30am April 27, 2015)
First let me say that this books looks intriguing. I find my
passion in new books that I read, people I meet or things I see.
I've always wanted to be a writer and little by little I'm getting
there. My family is my biggest support group.
(Val Pearson 11:38am April 27, 2015)
My passion is inspired by my grandson.
(Connie Williamson 7:54pm April 27, 2015)
Registered users may leave comments.
Log in or register now!